Description
Calling all software and testing decision makers in Greater London. Join a Lunch & Learn session with Bruce Zaayman of DVT, one of the top testing companies in the UK and explore the DVT Global Test Centre FREE Proof of Concept. Visit our website for more information.
DVT's Global Testing Centre offers heavyweight testing solutions, backed up by 19 years' experience and high level expertise. The DVT Global Test Centre FREE Proof of Concept is designed for all sizes of business, providing an affordable, quality outsourced testing solution.


We were introduced to DVT as a solutions provider who could help us find a way to automate a lot of our software testing. They've provided very

practical and efficient solutions, enabling us to focus on our customers."
Gary O'Connor, Doddle UK, Chief Technology Officer.
What you get:
- Analytical and technical testing skills.
- Delivery managed by a single point of contact.
- Support from Test Consultants.
- Tool selection approved by SQA Architects.
- Dedicated engagement/ account management.
- Short notice for activation.
- Scrum/ Kanban used fro script development projects.
- Lean software testing.
- Business driven test management approach.
- Basic to executive level reporting.
- Software testing on real devices.
- Testing aimed at digital transformation.
- Automation of regression testing.
- Performance testing with top tier tools.
Come and meet us at our offices at the City Pavilion. Meet the DVT thought leaders and let's explore your testing needs and challenges together.
About Bruce Zaayman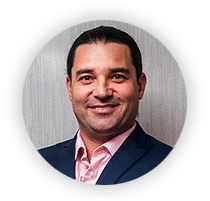 Bruce Zaayman is Director: Client Engagement at software development and testing company DVT. His primary responsibilities include business development of DVT's managed outsourced software testing solutions. With over twelve years' experience in performance testing and software quality assurance consulting across multiple industries and technologies, Bruce helps UK businesses to optimise software testing automation, ensuring clients get products to market faster.