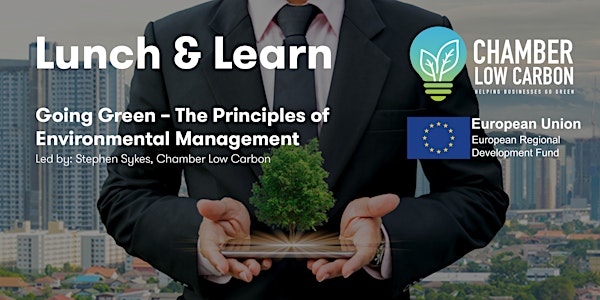 LUNCH & LEARN: 'Going Green' The Principles of Environmental Management - 2...
Description
This free workshop will give your business an expert overview of why an environmental management system can help deal with the environmental pressures on business.
The session will cover:
Environmental issues
Pressures on Business
Typical Environmental Management Activities
What is an Environmental Management System
Which Standard?
Key Elements of ISO 14001
The event will start at 12:00 with lunch and networking, with the session starting from 12:30. Following the session there will be plenty of opportunity to ask questions and for further networking over refreshments.
The Chamber Low Carbon team will be on hand to discuss the support and funding available through the Low Carbon programme.
This workshop is part of a regular Lunch & Learn series giving Lancashire businesses the knowledge and tools to go green. To keep up-to-date with further workshops subscribe to the Chamber Low Carbon newsletter.
Organiser of LUNCH & LEARN: 'Going Green' The Principles of Environmental Management - 23rd November 2018
East Lancashire Chamber of Commerce and Industry in partnership with North & Western Lancashire Chamber of Commerce, Businesswise Solutions Ltd and BOOST are supporting Lancashire businesses in saving money and reducing their carbon footprint.
This £6m European Union, European Regional Development Fund, part -funded programme is committed to the provision of a FREE suite of services aimed to help businesses improve energy and environmental efficiencies, introduce on site renewable energy generation and save money.

We're also here to help you if you are developing a new piece of low carbon technology and want to get it into the market, see it manufactured locally or find your dream customer. 
Every business signing up to the project is entitled to free support in environmental and energy saving good practice and help financing low carbon technology adoption which will be delivered via a suite of masterclasses and 1-2-1 bespoke support.