Location
Westminster Music Library
35 Saint Martin's Street
London
WC2H 7HP
United Kingdom
Refund policy
Contact the organiser to request a refund.
Eventbrite's fee is nonrefundable.
Westminster Music Library welcomes pianist Antonio Morabito to perform solo works by Schubert and Chopin
About this event
Westminster Music Library is delighted to present Antonio Morabito as the next featured musician in our recital series.
--
Programme
F. Schubert - Sonata in A Major, D. 959
F. Chopin - Etudes Op. 25, nos. 1, 2, 7, 8, 10, 12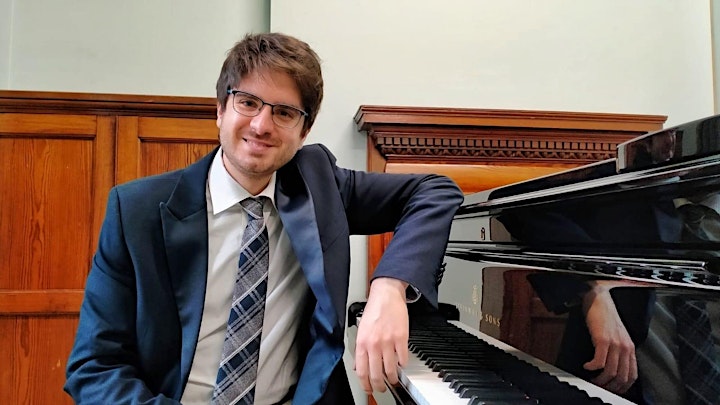 Antonio Morabito is an Italian pianist studying a Masters in Performance at the Royal College of Music in London with Gordon Fergus Thompson. His studies at RCM are generously supported by Ms. Aylmer and the Members of the Board of Il Circolo.
Antonio is a dedicated Piano Tutor, and teaches through the Royal College of Music Teaching Service. In the past years, he taught in Italy as a piano teacher in both private and public schools.
Previously, he graduated with distinction in Piano from the "Cilea" Conservatory under the guidance of Marialaura Cosentino who continues to be a guide to Antonio.
Whilst studying at the "Cilea" Conservatory, he also studied Composition.
In 2019 he won a scholarship from the European Commission and obtained a master's degree with full marks from the J. Rodrigo Conservatory of Valencia in piano, chamber music and choir conducting.
In July 2019 he graduated with distinction in Chamber Music at the F. Cilea Conservatory.
As a composer, he has written solo piano and chamber music, some of which he has performed himself in public concerts and during television broadcasts in Reggio, Italy. He has written works for choir, including "La carità tutto crede", which won the first prize in 2013 in the Art and Culture Competition held by the Curia.
He has participated in masterclasses and other high-level piano specialisation courses with acclaimed masters such as: Freddy Kempf, Enrique Batiz Campbell, Cristiano Burato, François-Joël Thiollier, Michele Campanella, Benedetto Lupo, Stefan Stroissnig and Leslie Howard.
Moreover, he has received prizes and has achieved high rankings in national and international piano competitions, including the Bruxelles International Piano Competition; the International Competition Città di Barletta; the Mandanici Award; the Rome Competition; Làszlò Spezzaferri International Music Competition; the International Music Competition "Città di Pesaro"; VII Odin International Music Online Competition; "San Donà di Piave" Piano International Competition; International Youth Music Competitions, Atlanta, USA; and the "International Moscow Music Competition", Moscow, Russia.
Antonio was honoured to be named "Young Artist of Excellence for the Musical Arts" in 2014 by the "UNICRAM" Association.
He performed as part of the "Best Italian Graduates" review in Castrocaro Terme in September 2017.
Antonio also graduated in Philosophy from the University of Messina.
Founded in 1948, Westminster Music Library holds one of the largest public collections of sheet music and music books in the UK. We are part of the Westminster and Kensington & Chelsea BiBorough Library Service, and our materials are free to use and borrow.
To receive updates on forthcoming events, sign up to our mailing list, or view all events across Westminster Libraries and Archives on Eventbrite.
This recital is part of our free live music series. Join us every Wednesday at 12:30 for a lunchtime concert.
--
Advanced booking is advised, but a limited number of spaces will be available to walk up on the day.