About this Event
As some of you know by now my dad lost his battle with Cancer on the 8th of January after fighting so hard for 6 months. It is a heartbreaking time for all his family and friends but he passed with all his family by his side holding his hand which is how he would have wanted it to be. When me and Connor told my dad we were doing this show he was so happy and always got excited when I told him how rehearsals were going and told me how proud he was of me, so the show must go on.
My dad has been a massive influence in my life, always supporting me in my acting and dreams and inspiring me from all the charity fun raising he has done to raise money for Big C (Including conquering the 3 peaks) and now it is time for me to give back. I have decided to put on a show with my boyfriend Connor to raise money for Big C, to help fight cancer, but most importantly to make my dad proud.
All money for tickets will go towards Big C plus any other donations.
I would love your support and would love to see you all there.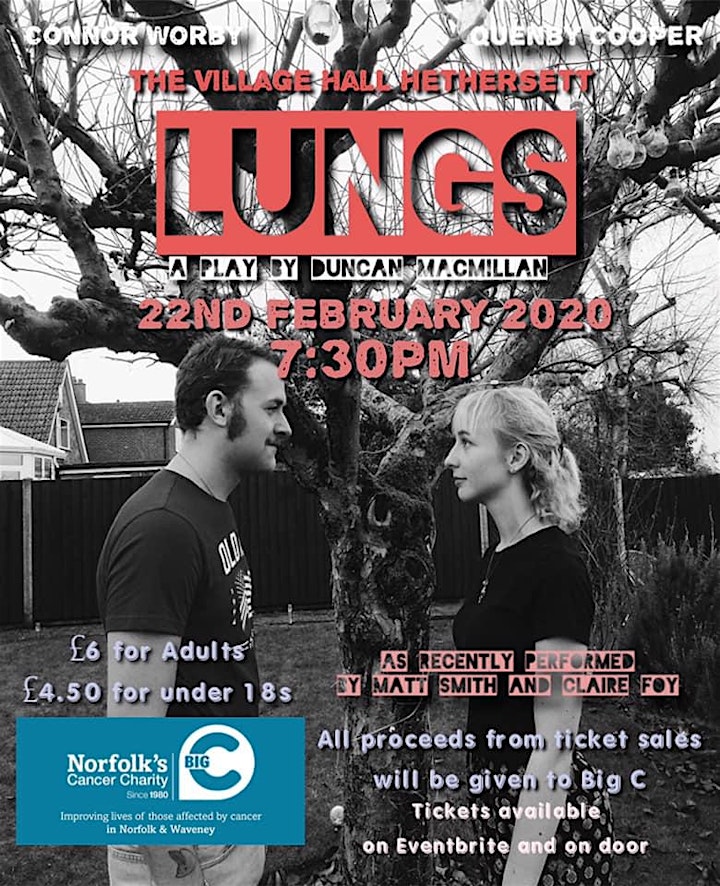 Lungs
This play is about a young couple considering parenthood. They want to have a child for the right reasons. But in a time of global anxiety, erratic weather and political unrest, what exactly are the right reasons?
Play includes:
Bad language, sexual scenes, and sensitive content
Viewer discretion advised