Luton Black Men Community Group - Sun 11th June Racism, Eugenics & Depopulation

Sunday, 11 June 2017 from 15:00 to 17:00 (BST)
Event Details
Luton Black Men Community Group

In conjunction with Brenda Lee (Health Scientist)
Racism, Eugenics and Depopulation
Sunday 11th June 3pm to 5pm
Adult ticket (over 18): £2 in advance or £5 at the door
Early bird Adult ticket (booked by Sunday 28th May): Free
Concession ticket (Child 18 or under or pensioner): Free
(for the whole African Heritage family, men, women, boys and girls)
Luton Irish Forum, 102 Hitchin Road, Luton LU2 0ES

(entrance at car park off Brunswick Street and Hitchin Road roundabout)

How modern science is being used today against Africans with a look at vitamin D supplementation, contraceptives, vaccines and food.
A health awareness event, educating the community to empower themselves.
Come and learn more about African Heritage & History and you will also have the opportunity to join in the discussion after the presentation and also network.
Refreshment available. Stalls £5 (Free if booked by Sunday 28th May) with products for sale
DONATIONS are WELCOMED
Website: www.lutonblackmen.org
email: info@lutonblackmen.org


Contact: 07591 747987 

www.facebook.com/events/146318535908694
Newsletter:  http://mailchi.mp/ab4218481723/lbmred
http://www.togoout.uk/luton/luton-irish-forum/lbmcg-sun-11th-june-3-5pm-13th-racism-eugenics-depopulation?9lchxx5yt1
http://www.wherevent.com/detail/Lutonblackmen-Communitygroup-LBMCG-Sun-11th-June-3-5pm-13th-Racism-Eugenics-Depopulation
https://allevents.in/luton/lbmcg-sun-11th-june-3-5pm-13th-racism-eugenics-and-depopulation/146318535908694#
https://www.evensi.uk/lbmcg-sun-11th-june-3-5pm-13th-racism-eugenics-amp/210895590
http://www.hievents.co.uk/events/1906185/lbmcg-sun-11th-june-3-5pm-13th-racism-eugenics-depopulation
http://heyevent.uk/event/akvrc4f5r2zx2a/lbmcg-sun-11th-june-3-5pm-13th-racism-eugenics-depopulation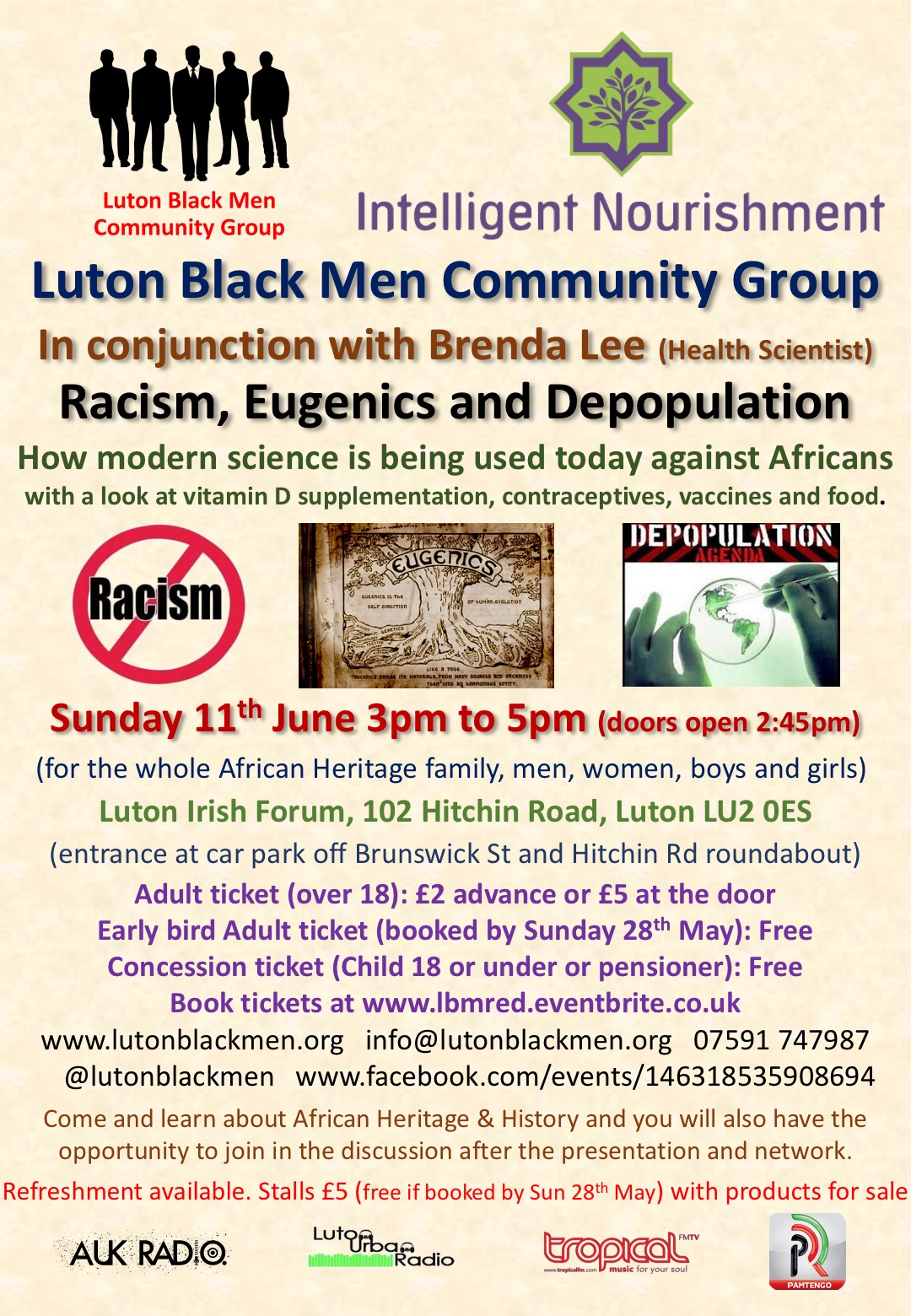 When & Where

Luton Irish Forum
102 Hitchin Road
LU2 0ES Luton
United Kingdom


Sunday, 11 June 2017 from 15:00 to 17:00 (BST)
Add to my calendar
Organiser
The Luton Black Men Community Group is an Afrocentric male facilitating organisation enhancing the black community with
mentoring, education, economic empowerment and health & wellness via self-funded programmes.

We need more men to join this organisation to provide solutions for our community.

info@lutonblackmen.org