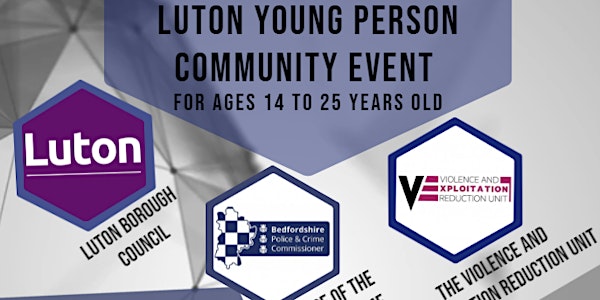 Luton Young Person Community Event for Ages 14 to 25 years old
Luton Young Person Community Event; Discussion with the PCC and the Local Authority on Serious Violence for Ages 14 to 25 years old
About this event
The local community is invited to a discussion with the Police and Crime Commissioner Festus Akinbusoye and the Local Authority, including leader of the Council Cllr Hazel Simmons about serious violence that is occurring between young people and how we together as a community could work to prevent it.
The event will be held virtually due to Covid-19 rules.
The event is not a conference, you will not have professionals speaking at you, it will be professionals listening to you; about your concerns and your ideas.
Your virtual link to the Luton Young People's Community Event; Discussion with the Police and Crime Commissioner on Serious Violence for Ages 14 to 25 years old will be sent with your confirmation.