Description
Luxe Beauty Soirée is the beauty and lifestyle event of the season. At this event, we celebrate Britain's Diversity as we host exclusive beauty and lifestyle brands dedicated to; 'Embracing all tones of women'.
This exclusive event will house industry experts most of whom are top in their fields, as well as bloggers, vloggers and influencers, international media (covering both TV, print and online), potential distributors, buyers and marketers.
The March 2018 London event activities include demonstrations as well as panel discussions with these experts which cover genuinely weighty matters affecting the industry, thus encouraging an open dialogue which we hope will help brands and businesses better understand Britain's diverse cultures and how to market to them.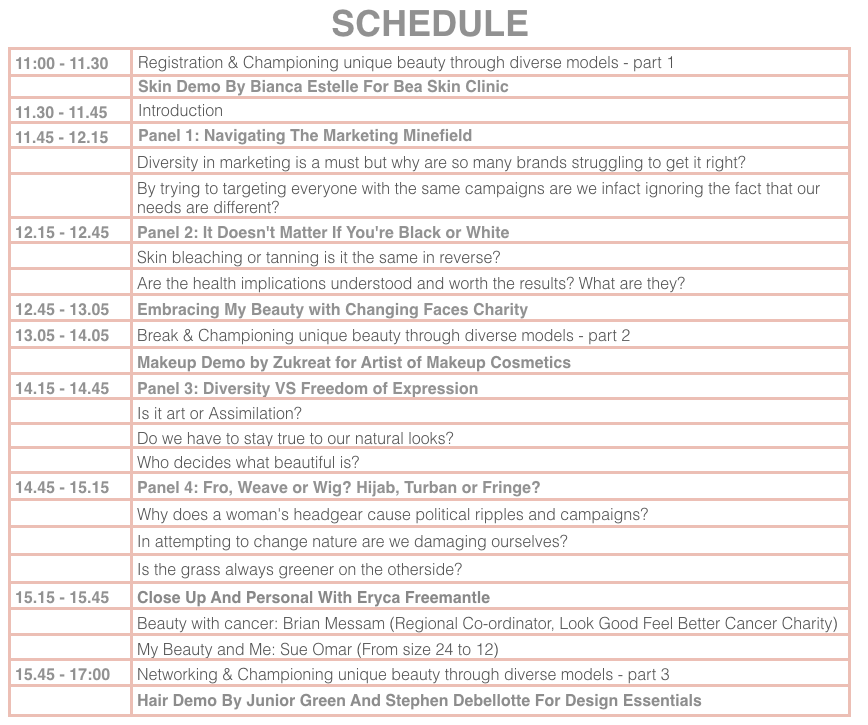 ---- DISCUSSIONS/DEMOS ----
Navigating the Marketing Minefield
-Diversity in marketing is a must but why are so many brands struggling to get it right?
-By trying to targeting everyone with the same campaigns are we infact ignoring the fact that our needs are different?
It Doesn't Matter if You're Black or White
-Skin bleaching or tanning is it the same in reverse?
-Are the health implications understood and worth the results? What are they?
Diversity Vs Freedom of Expression
-Is it art or Assimilation?
-Do we have to stay true to our natural looks?
-Who decides what beautiful is?
Fro, Weave or Wig? Hijab, Turban or Fringe?
-Why does a woman's Headgear cause political ripples and campaigns?
-In attempting to change nature are we damaging ourselves?
-Is the grass always greener on the otherside?
Close Up & Personal

-Embracing my beauty with Changing Faces charity
-Beauty with cancer: Look Good Feel Better charity
-My beauty & me: Sue Omar
Challenging Unique Beauty Through Diverse Models

Part 1: Skin Demo with Bea Skin Clinic
Part 2: Makeup Demo with Artist of Makeup Cosmetics
Part 3: Hair Demo with Design Essentials