Description
The biggest networking event in Europe with high-profile insider tips for your success. Live Tony Robbins, Pitbull and Eric Worre on the same stage!
Be part of our Business Network Event of the Year and learn from influential personalities who are experts in management and psychology to set a whole new standard for your personality and your own success.
From our experts and speakers you will learn:
How to drive your own way of thinking and emotions of the most successful personalities in the world.
How you can use the drive constantly for yourself and achieve your personal success in much simpler steps.
How to resolve internal blockages and increase your business results extremely.
How to unlock the full potential of your employees
How you can inspire new partners for your business.
Feel the energy of success live and be inspired!
65,000 participants - entrepreneurs and companies come together!
---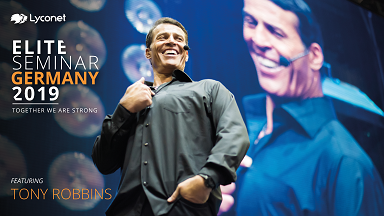 ANTHONY ROBBINS - is an American entrepreneur, #1 NY Times bestselling author, philanthropist, and the nation's #1 life and business strategist. For more than 40 years, millions of people have enjoyed the warmth, humor, and transformational power of his business and personal development events.
Tony Robbins' work has touched the lives of top entertainers and athletes, such as Usher, Pitbull, Serena Williams, Andre Agassi and the Golden State Warriors. Peak performers seek him out both at the top of their game, to maintain their position, and in moments of distress, to strategize their return to greatness. Billionaire business leaders also seek out Robbins for his advice; investor and hedge fund manager Paul Tudor Jones and Salesforce.com founder Marc Benioff are among those he has personally coached.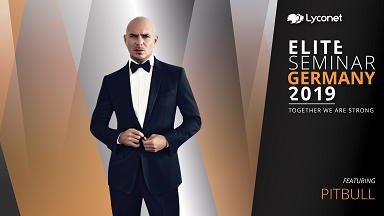 PITBULL a.k.a Armando Christian Perez - as an artist, Pitbull's music has charted number one in countries all around the world. He is a GRAMMY Award-Winning artist who has collaborated with some of the music industry's biggest names. Starting out as a street-derived Miami rapper, Pitbull has managed to virtually take over the music industry, earning many accolades including a star on the Hollywood Walk of Fame and an inaugural award from the Songwriters Hall of Fame.
As a motivational speaker, Armando started his motivational speaking career in late 2015, when he made his debut at Tony Robbins' Unleash The Power Within seminar in Palm Beach, FL. In early 2017, he established a name for himself in the motivational speaking business as he continued to speak and appear at expos and conventions around the world. Armando is also slated to embark on a 2019 world speaking tour with Tony Robbins next year.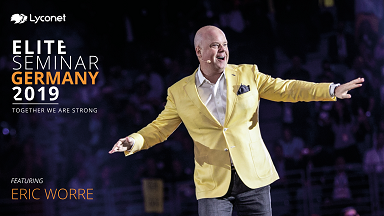 ERIC WORRE - is a brilliant speaker and consultant. As a trainer and speaker, he has given lectures to more than 250,000 people around the world. In equally high demand as a consultant and speaker, Eric Worre has retired from building as a distributor after earning over $15 million in his esteemed Network Marketing career. Eric has now dedicated his life to being a speaker, trainer, and inspirational force. Eric has conducted live events with more than 300,000 people around the world and always leaves his audiences inspired, empowered, and motivated. If you're looking for a dynamic speaker for your next event, all you need to know is- When Eric gets up on stage, he delivers.
---
06 June 2019
Network marketing professional Eric Worre explains in a vivid way how to do it with perseverance, passion and drive to his goal.
07 June 2019
Eric Worre not only has tips and suggestions for efficient development of the networking career in stock, but he also knows the secrets that lead to success. The 65,000 motivated participants, he will dedicate in just these secrets.
08 June 2019
The last day of the Elite Seminar will once again give you a lot of motivation for your career as a marketer. Be inspired by the experiences and insights of visionary Hubert Freidl and network marketing professional Eric Worre. Their expertise will not only strengthen and advance you and your team, but it also provides the perfect incentive to take your career to the next level.
That was not all ...
In addition, additional guest speakers will share their knowledge with you on all days. Special acts between the speakers (musicians, actors, etc) will turn the event into an energetic arena.
Tony Robbins and Pitbull will perform on one of these three days.
Eric Worre will speak every three days.
As well as many other guest speakers will be distributed on the three days.
____________________________________________________________________________________
⚠️ Important:
Entry to the event is only valid with a fully paid ticket, validated in the Lyconet system. After the ticket purchase, you will receive the registration link and validation information.

Accreditation and registration will be handled by Lyconet at no extra cost. This event is public.

The event will be held in English. Translation Service will be available. Languages will be announced soon on the event page.

No entry for children under the age of 18.
---