Lymestone, Beech and then your pie. A swift one with RideStaffs on 6th June
Description
Lymestone, Beech and then your pie.
A swift one on the bike then a swift one at the bar
Join RideStaffs for a midweek ride on a midsummers evening
25 midweek miles then beer and a pie. We're making you earn it though!
The first week of June is the Stone Festival and we're teaming up with Lymestone Brewery again to be part of the festival fun with a short sharp midweek blast around the lanes followed by a bit of beer and locally made pie at the brewery itself.
What's it all about?
The idea is that it goes something like this
Show up
register
hit the road and work up an appetite
eat some food
drink a little beer (if you're old enough)
If you've joined us for an event at the brewery before, you'll know the format. There's plenty parking at the top of the site, there's toilets at the brewery itself, and the route is signed. We'll also release a .gpx and .tcx file for those with GPS units.
Want to know more?
Read on....
The Detail
Distance: 26.2 miles or 42km
Climbing 1668ft or 508m - it's a stinker.
It's an evening ride, time is tight, so we've crammed as much as we can into the relatively short distance. More climbing than you're probably used to from our events, but that's ok, because it'll be over nice and quick!
Key Timings:
18.30 Registration opens
19.00 You can leave any time after this
19.30 Registration closes and last riders away
21.00 Last rider home
Friends and family are welcome to enjoy the summers evening with us at the brewery and/or the Borehole just a stones throw away.
And if it's too short for you?
Go round twice
Here's the route: (Click here to see it on RidewithGPS)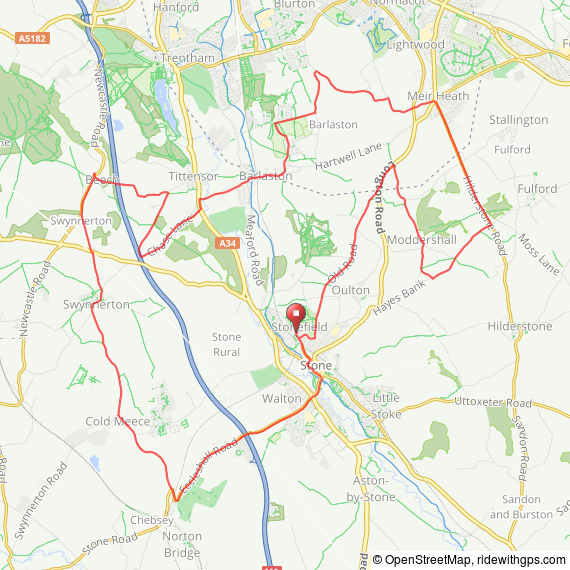 And here's the profile: (Click here to see it on RidewithGPS)