Our Lymphoma Focus Day, on Saturday 8 May, is a great opportunity to learn more about lymphoma and to meet up with others with lymphoma.
About this Event
Each person will need to register separately using this EventBrite page. You can register for free, or make a donation. The suggested donation is £10.
When you click the green register button, you can choose between lots of different tickets.
OPTION 1: you can choose the first ticket type called 'I only want access to the information videos'. In this case, you will be emailed the link to access our information videos when they are published at 9am on Saturday 8 May. You will not be booked to join a zoom meet up session on 8 May.
OPTION 2: you can choose to join 1 of 20 zoom meet up sessions taking place on Saturday 8 May. You will also be emailed the link to access our information videos when they are published at 9am on Saturday 8 May.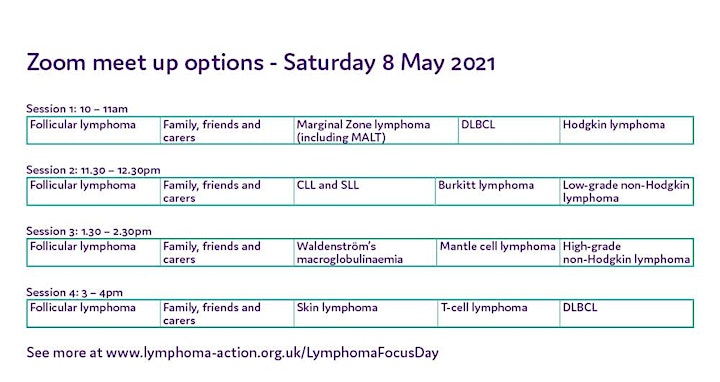 Zoom meet up T&C's
Each meet up will be limited to 18 participants and spaces will be bookable on a first come first serve basis.
As we are a UK charity, these meet ups are solely for UK residents.
Please only book to join one meet up, so that everyone has an equal chance to benefit from this opportunity. Any additional bookings will be removed/cancelled to free up spaces for others who have yet to book.
As the Zoom meet ups are intended to support people affected by lymphoma and their families, friends and carers, we cannot accept bookings from healthcare professionals.
Zoom meet up FAQ's
Choosing the right meet up for you
If you are not sure which meet up would be the best for you to choose, you can contact our helpline team to check before making your selection:
Helpline: freephone 0808 808 5555, 10am to 3pm, Monday to Friday
Live Chat: 10am to 3pm, Monday to Friday - the purple pop up box on our website
Email: information@lymphoma-action.org.uk
How will the meet ups work?
The majority of these meet ups will focus on a different type of lymphoma or group of similar lymphomas. These sessions are designed for those living with the condition. We are aware that some types of lymphoma are much more common than other types, and so we will run several groups for these types (for example, follicular lymphoma or diffuse large B-cell lymphoma). We also have groups available for family, friends and carers.
What should you expect from your meet up?
We often get feedback at the conference that people would like to meet others with a similar diagnosis. Our aim is for these meet ups to be a place to meet others with a similar diagnosis and make connections with each other. Although the time will be limited, we hope that you might like to share your experiences and connect with others.
Each meet up will be led by a facilitator and limited to a maximum of 18 people so that everyone is able to participate.
Each meet up will be a time limited sharing experience, lasting one hour.
Everyone will need to have their camera and microphone on while in their chosen meet up.
The facilitator will invite everyone to share and contribute.
There will be a typed chat box with the option to message everyone in the meet up at once or individuals in the meet up privately.
Exchanging contact information with others
During these sessions, we encourage you to share your contact details with others in the group. You can do this via the 'chat' function, and you can either share with 'everyone' or with a specific individual. You are under no obligation to share your details, and if someone invites you to keep in contact you are under no obligation to agree. As a charity we are not able to take responsibility for any contacts that you make during these sessions, and we are not currently able to offer a more structured service at this time. If you would like to connect with anyone within your chatroom after the session ends, you would need to share your details during your session. We won't be able to facilitate the sharing of contact details following any session.