MAB Quran Qiraat Gathering 2012

Saturday, June 30, 2012 from 11:30 AM to 7:00 PM (BST)

Leicester, United Kingdom
Event Details
National Quran Qiraat Gathering
"This is the Book in which there is no doubt."
Date: 30/6/2012.
Time: 11:30pm till 7pm.
Venue: Leicester Central Mosque, Conduit Street, Leicester LE2 0JN.
Sponsored by:
MAB Charitable Trust.
Messages Delivered by:
Dr Omer El-Hamdoon, MAB President.
Abdel Rahman Mussa, MAB Shoura Council.
Maulana Shahid Raza Na'eemi, British Muslim Forum.
Sheikh Ibrahim Mogra, Muslim Council of Britain.
World Renowned Reciters invited:
Sheikh Reda Gomma.
Sheikh Syed Hassan Mahmoud Bukhaari.
Come and listen to the wonderful beautiful recitations of the Quran.
Come and be motivated by Inspirational messages around the Quran.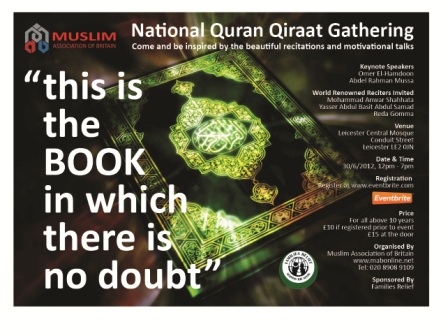 The Muslim Association of Britain - Partners for the Common Good.
When & Where


Leicester Central Mosque
Conduit Street

Leicester
LE2 0JN
United Kingdom
Saturday, June 30, 2012 from 11:30 AM to 7:00 PM (BST)
Add to my calendar
Organizer
Muslim Association of Britain
MAB is a British organisation dedicated to serving society through promoting Islam in its spiritual teachings, ideological and civilising concepts, and moral and human values. MAB has local branches across the UK that provide a wide range of events and activities.
MAB is a founding member of the Mosques and Imams National Advisory Body (MINAB).
MAB actively seeks to dispel the misconceptions about Muslims and helps to act as a bridge to promote better understanding between the UK and the Muslim World.