Information Session: The Machine Learning Institute Certificate in Finance (MLI)
About this event
Join from the meeting link
https://mlinstitute.webex.com/mlinstitute/j.php?MTID=mff2ce4bf66f7408b4d30d921989236c7
Join by meeting number
Meeting number (access code): 152 338 0447
Meeting password: MLIinfo721
Join Paul Bilokon for a discussion on the latest developments in machine learning and the future direction of quantitative finance.
25% Early Bird Discount until Friday 6th August 2021
Next Start Date: Tuesday 19th October 2021
Quantitative finance is a very interesting profession. You always keep learning. Why do you learn? You learn because you want to, because it is enjoyable, and increasingly you learn to be at the forefront and venture beyond.
The roles of a quant, quant developer, and trader are not what they once were. You used to be experts in differential equations and martingales. Now it's all about ML/AI.
More and more papers in the academic literature feature the word "deep". "Deep learning volatility", "deep hedging" … More and more banks, hedge funds, and trading firms open dedicated divisions – ML/AI labs, – which work on ML/AI adoption; more and more quants, quant developers, and traders become ML/AI experts.
We read on our Bloomberg terminals: "Goldman Sachs is betting on Artificial Intelligence to drive growth", "Machine learning futures algo trading surges at JP Morgan", "Electronic trading surges with traders eyeing the impact of machine learning" …
The field of ML/AI itself is rapidly evolving. The focus is gradually shifting from simple feedforward neural networks to complex pre-trained architectures, such as GPT-3. Supervised and unsupervised learning are rivalled by the rise in the more versatile reinforcement learning. The idea of a "hedonistic" learning system pioneered by Sutton and Barto is coming to the fore. Generative methods feature more and more prominently in finance. People talk more and more about quantum machine learning, a synthesis of ML/AI and quantum computing.
In part this revolution is driven by hardware. We keep reading in the news about the latest developments: "Nvidia Builds U.K.'s Most Powerful Computer for Drug Research", "Graphcore raises $222 million to scale up AI chip production", "China beats Google to claim the world's most powerful quantum computer".
Advances in hardware are being matched by algorithmic advances. AlphaZero, which was making headlines in 2017 is now superseded by MuZero. GANs and transformers nowadays feature as prominently as the more vanilla feedforwards. AlphaFold 2 supersedes AlphaFold 1.
ML/AI are becoming mature in all their aspects: the art, the craft, and the science of ML/AI are evolving rapidly. There is no longer a single textbook that one can read to stay abreast of the state-of-the-art. Back in the day the City of London was populated not only by banks but also by guilds, which could be entered by apprenticeship. Apprenticeship provided the basic skills and equipment that a craftsman needed in order to execute innovative ideas. Guilds maintained high standards of apprenticeship teaching.
The goal of the Machine Learning Institute is to provide such an apprenticeship. You work closely with ML/AI experts from the industry and the academe. You learn not indiscriminately, but what's important. You can ask questions and expect your questions to be answered. You don't need to monitor the rapidly changing specialized literature – we do this for you. And while there is no royal road to ML/AI, the MLI's approach is as close to the royal road as it gets.
MLI will save you a lot of time. The information received from our faculty condenses hundreds of textbooks and thousands of research papers, which would take years to master independently. Coursera and Udemy feature some of the content, but don't include the most important aspect of an apprenticeship – the interaction – not just with the faculty, but with other aspiring ML experts. Each MLI cohort forms a bond of friendship and keeps learning ML/AI together – for life. MLI is the best possible way to attain this experience – without taking a year off work and going back to the university.
MLI Faculty Presenter: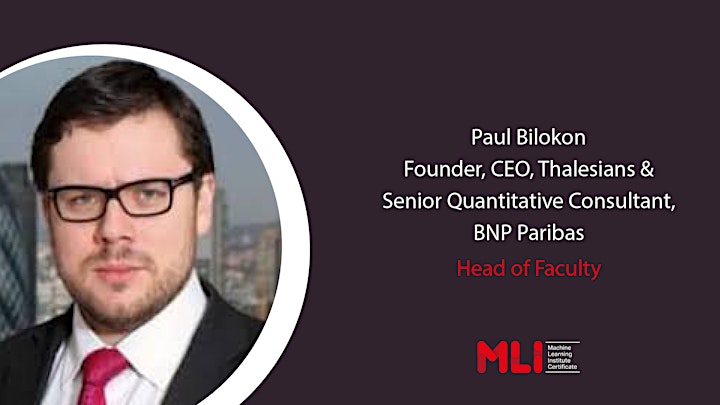 By registering for this event, attendees consent to receive further email communication on this topic from World Business Strategies Ltd.
Organiser of Machine Learning and the Future Direction of Quantitative Finance (MLI)
WBS Training Ltd organizes workshops and conferences for the capital markets and treasury divisions of investment companies worldwide, with all our efforts centered solely on the education of our clients. WBS Training does not operate to present dozens of events every year. Instead we select only the most innovative, pertinent and dynamic subjects, thus bridging the gap between the latest theoretical developments through to proven practical trading floor requirements. Therefore, we aim to ensure that such requirements can be effectively implemented in the real financial world.
Our depth of experience within the training environment provides us with a greater knowledge and understanding of what our clients require from financial business training. This promotes the unique position of us delivering the quality and service that is crucial to our client's continued success and competitive advantage in the market place.