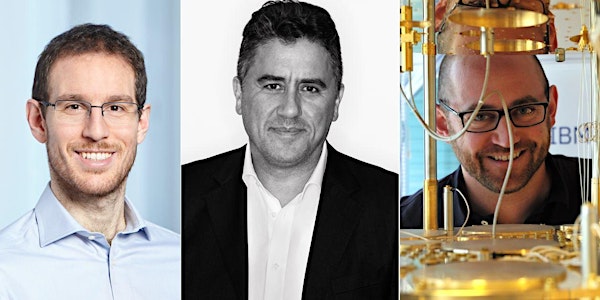 Machine learning for finance and effective dimension of neural networks
Machine learning for finance and effective dimension of neural networks: a comparison between the classical and the quantum world
About this event
We are delighted to invite you to an online talk by Dr Dario Villani, Professor Alessio Figalli and Dr Stefan Woerner, organised by the Department of Mathematics at King's College London. The subject of the talk will be 'Machine learning for finance and effective dimension of neural networks: a comparison between the classical and the quantum world'.
Speaker Biographies
Dr Dario Villani is CEO and Co-Founder of Duality Group. Dario has managed multi-billion dollar portfolios within credit, interest rates, and commodities. Previously, he served as Global Head of Portfolio Strategy and Risk at Tudor Investment Corporation. He shared the 2016 Risk.net Buy-Side Quant of the Year Award, and has authored research papers in finance, theoretical physics, statistics and portfolio management. Dario holds a PhD in Theoretical Physics from Salerno University and a Master in Finance from Princeton University where he also taught a popular course in trading and risk management. Dario is currently a visiting professor in the Department of Mathematics at King's College London.
Alessio Figalli is a Chaired Professor in Mathematics at ETH Zurich and the Director of the FIM (Institute for Mathematical Research) at ETH. After a joint PhD in Mathematics at SNS Pisa (Italy) and ENS Lyon (France) in 2007, he was a professor in France and the US before moving to ETH Zurich in 2016. Alessio works on several topics in mathematics, including Calculus of Variations, Optimal Transportation, and Partial Differential Equations. For his achievements, he was awarded the Fields Medal in 2018.
Dr Stefan Woerner is leading Quantum Applications Research & Software Development at IBM Quantum and is a Principal Research Staff Member in the Quantum Technologies group at IBM Research - Zurich. The focus of his research is the development and analysis of quantum algorithms for optimization, simulation, and machine learning as well as their practical applications, particularly in finance.
The talk is expected to last approximately 1 hour and 15 minutes.
Organiser of Machine learning for finance and effective dimension of neural networks