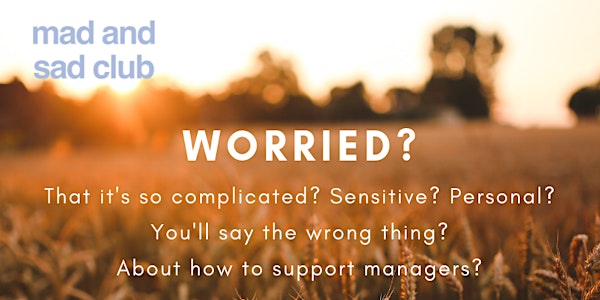 Mad and Sad Class: A simple, human approach to mental health at work
Location
SMUG - upstairs workshop space
SMUG, 13 Camden Passage
London
N1 8EA
United Kingdom
'Doing something' about mental health at work is daunting. I'll help you discover the power of a simple, human approach.
About this event
'Doing something' about mental health is daunting.
Whether you work in Internal Comms, HR, Wellbeing or Health and Safety, it feels complicated. Personal. Sensitive. Confusing.
I know the impact that simplicity, humanity and empathy can have. The most powerful conversation someone has ever had with me about my mental health was to simply say: "I don't think you're OK."
It had a huge impact on me. It made me realise I wasn't OK. I started to learn about what might be going on, how I could help myself, what treatment was available.
That was two years ago this month. Now I want to help you understand mental health, how it can affect you at work and how you can improve your communications around mental health at work - from talking to people you're worried about to designing a comms campaign or supporting managers.
======
You'll hear directly from mad and sad club members to help you understand how mental health issues can affect someone at work.
This won't be death by powerpoint - in fact, there will be no powerpoint! We'll talk, brainstorm, action plan and problem solve as a small group.
You'll come away with:
A better understanding of mental health issues at work - how to spot the signs and how mental health issues can affect a person at work
An understanding of the audiences you need to consider when talking about mental health at work
Ideas and a template action plan to start talking about mental health at work that we will have built together
Tips and tricks to help you manage your own mental wellbeing at work
We will be at the fantastic SMUG cafe and shop in Angel - using their upstairs workshop space. It's light, bright and definitely not your usual boring boardroom setting!
mad and sad classes are run by me, Jo Hooper - hi!
I spent 11 years in the Communications industry, latterly as Head of Corporate Communications, so I understand how to run compelling comms campaigns. I also know all about the insidious power of mental ill health. I struggled to manage my anxiety and depression as well as thriving in my job for years and in 2019 decided to make a change.
I set up mad and sad club to help people and organisations understand, talk about and tackle mental health at work. I'm honest, practical and straightforward - as is the advice I give at my mad and sad classes!
Please note, we will have a walk to find our own lunch nearby on the day - I find it really important to get some fresh air and have a break! And that also means we won't have to suffer soggy sandwiches!