About this Event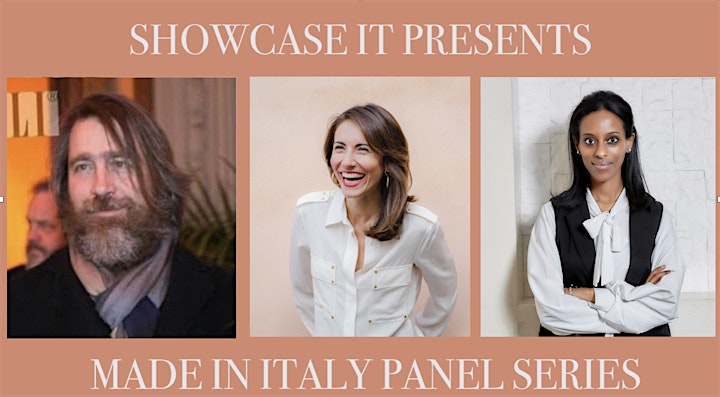 Guests include :
Massimo Papini , Creative Director of Ala Campolmi, a Tuscan textile manufacture rthat combines the contemporary needs of fabrics and textiles
Award winning, Ala Campolmi is an incredibly historical company, which started in the 1800s. They are the pioneers in contemporary solutions to making wools and cashmeres more sustainable with the use of innovation and technology. Ala Campolmi now has its own museum of fabrics, and has over 5 generations of expertise within this area.
Sennait Ghebreab
Graduated from Universita' degli studi of Milan with a Master degree in Languages and Cultures for International Business, Sennait moved to London in 2008 to complete the Chartered Institute of Marketing course at the London Metropolitan Business School.
Sennait Ghebreab, expert in fashion brand development and buying with an extensive background knowledge of wholesale and luxury goods, currently works as a programme leader at Istituto Marangoni London, but she is also running her own consultancy business, providing services to Arab luxury retailers and some key Italian stores.
Sennait is an enthusiastic, well-organized and creative thinker with a strong passion for the Apparel, Fashion and Luxury industries, thanks to which she has gained a strong understanding of the fashion product in a wide perspective: not just for its positioning in the markets, but also for its pricing, improvement and development, in line with the international market needs.
Sennait started her career in fashion 11 years ago in London. Her experience and expertise stem from time spent dealing with the buying and retailing dynamics of the main luxury markets and throughout her career she has successfully dealt with some of the most interesting UK fashion luxury brands (Burberry, Matthew Williamson, Pringle Of Scotland and Joseph) on the brands' business development in EMEAA markets: Europe, Middle East, Asia and America.
Lucia Restani
Graduated from University of Bologna with a degree in Political Science. she quickly realised from a young age that what I wore could give me credibility and confidence in a highly competitive world. Others noticed this too, and soon friends and colleagues started approaching her for advice.
In 2004 she moved to the UK to work in fashion, always with the ambition to continue to help women with their personal and professional style.
She was the lead stylist, buyer and visual merchandiser for a consultancy boutique in Mayfair for seven years. Since then, she has worked independently, styling over 200 successful women, from many different walks of life. She has also worked with some of the biggest names in fashion and collaborated with top fashion houses for London, Milan and Paris fashion week.
Lucia advises in association with leading luxury brands, including Tom Ford and Alfred Dunhill. She also hold private events to showcase new and exciting collections and guide you to create your own personal style.
On the date of the event, a permanent recording will be sent to attendees to download.