Event Information
Location
Ericsson Exhibition Hall
Ricoh Arena
Phoenix Way
Coventry
CV6 6GE
United Kingdom
Description
Attend the UK's largest regional manufacturing and engineering exhibition.

This year Made In The Midlands is hosting our 9th and BIGGEST EVER manufacturing show!
Join over 2,500 industry leaders attending from across the supply Midlands engineering and manufacturing supply chain, including automotive, oil & gas, aerospace, retail, defence and medical. This is your chance to network and build relationships with the elite of Midlands industry, with the likes of Siemens, RS Components, Ricoh Products and Dennis Eagle to name just a few of the companies exhibiting.
For 2018, we also have an incredible speaker lineup and are proud to say that we will be hosting the Bloodhound SSC!
How much does it cost to attend?
The event is FREE to attend for all manufacturing and engineering companies with an interest in seeing the sector prosper: Managing Directors, decision makers, buyers, purchasers, procurement teams, and official Made in the Midlands partners will be in attendance.
For visitors, the Made in the Midlands exhibition is your chance to visit the best of the Midlands movers and makers in one day and network with key decision makers from across Midlands industry.
Don't miss out - Register your ticket now

Seminar Speaker Slots:
We will be hosting a series of informative seminars throughout the day, discussing current industrial topics that impact the engineering community.
10am: Andy Street, West Midlands Mayor opens MIM Expo
11am: Arthur J Gallagher on 'GDPR Essentials'
12pm: Lord Whitby, Made in the Midlands on 'House of Lords Update'
1pm: Lee Price, ADI Group on 'The industry skills gap'
2pm: Michael Mychajluk, JLR on 'The automotive supply chain update'
3pm: Alan Norbury, Siemens 'Digitalisation changes everything'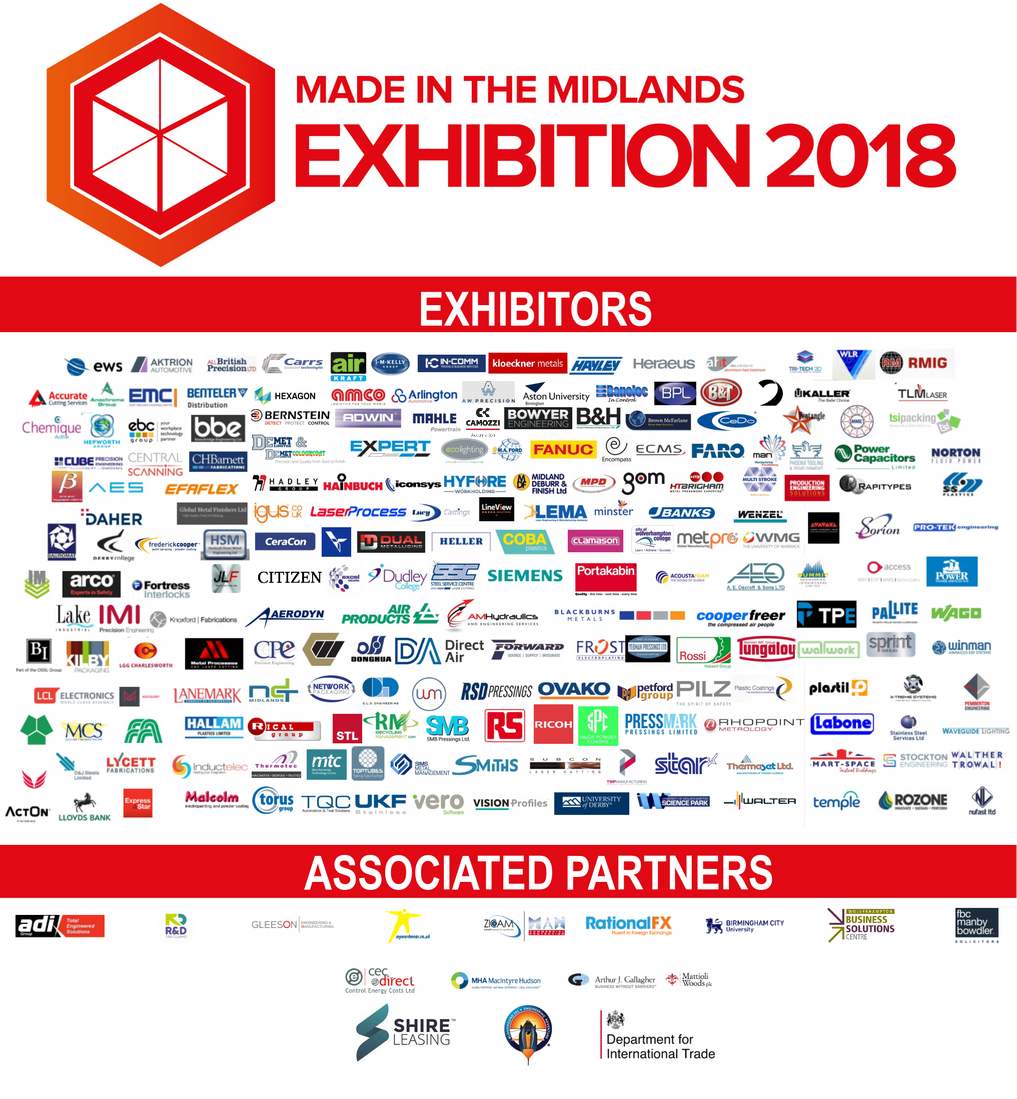 Full list of Exhibitors and their stand number
Accurate Cutting Services - 177
Acoustafoam - 230
ActOn Finishing Ltd - 58
Adey Steel - 217
ADI Group - 148
Adwin Springs - 124
AE Oscroft - 131
Aerodyn Ltd - 145
Air Kraft - 84
air products - 257
Aktrion Automotive - 64
All British Precision Ltd - 188
Alloy Heat Treatment - 88
AM Hydraulics - 191
AMCO Services - 256
Anochrome Group - 146
Arco Ltd - 39
Arlington Automotive - 210
Assembled Electronic Solutions Ltd - 69
Aston University - 207
AW Precision Limited - 101
B.Hepworth & Co. Ltd - 44
Banelec - 103
Bauromat (UK) Limited - 118
Benteler Distribution Ltd - 50
Bernstein - 194
Birmingham City University - 106
Birmingham Prototypes Ltd - 102
Blackburns Metals - 49
Boneham and Turner Limited - 93
Bowyer - 236
Bracebridge Engineering Ltd - 199
Bromford Iron & Steel Company Limited - 223
Brown Mcfarlane - 104
Business Solutions Centres - 161
Camozzi - 133
Carrs Toolsteel Technologies - 162
CeDo Ltd - 254
Central Scanning - 258
CeraCon - 95
Chemique Adhesives and Sealants Ltd - 121
Citizen Machinery - 107
City of Wolverhampton College - 47
Clamason - 55
COBA Plastics Ltd - 227
Control Energy Costs - 143
Cooper Freer - 252
CPE Engineering - 233
CTR-Carbide Dies Ltd - 89
Cube Precision Engineering Ltd - 62
D&J (Steels) Limited - 173
Daher Aerospace - 57
De-met - 169
Dennis Eagle - 98
Department Industry Trade Export - 86
Derby College - 116
Direct Air - 94
Donghua Ltd - 139
Dormer Pramet - 158
Dudley Advance (college) - 61
East Midland Coatings Ltd - 83
EBC Group - 63
Efaflex - D5
Elite Centre for manufacturing Skills - 261
Encompass Group - 147
EWS Manufacturing - 65
Excel Labels Limited - 42
Expert Tooling & Automation Ltd - 263
Express and Star - 46
Fanuc - 228
FARO Technologies - 195
Fata Automation - 52
FBC Manby Bowdler LLP - 215
Formbend Limited - 76
Forward Industrial Products Group - 216
Frederick Cooper (Birmingham) - 77
Frost Electroplating - 239
Gleeson Recruitment - 232
Global Metal Finishers - 40
GOM UK - 189
Hadley Group - 168
Hainbuch UK - 105
Hallam Plastics - 114
Hanley Robotics - 129
Hayley Group Limited - 156
HELLER Machine Tools Ltd - 154
Heraeus - 198
Hexagon Manufacturing Intelligence - 250
Hills Numberplates (dual metallising) - 37
HT Brigham - 78
Hucknall Sheet Metal - 75
Hyfore Workholding - 119
Iconsys - 134
igus - 186
IM Export - 38
IMI Precision Engineering - 178
In-Comm Training & Business Services - 196
Inductelec - 174b
J Banks & Co Ltd - 231
JLF Manufacturing - 245
Kaller - 41
Kilby Packaging - 172
Kloeckner Metal - 190
Knoxford Fabrications - 225
Lake Chemical & Minerals Ltd - 271
Lanemark - 130
Laser Process Limited - 266
LCL Electronics Ltd - 270
LEMA - 67
LGG Charlesworth Ltd / talisman plastics - 122
Lineview Solutions - 127
Lloyds Banking - 74
Lucy - 235
Lutterworth Ecolighting Ltd - 73
Lycett - 224
M. A. Ford Europe Ltd - 180
Machined component systems - 4
Made in the Midlands - D6
Mahle - 152
Malcolm Enamellers - 282b
MAN Group - 237
MAS - 149
mattioli woods - 268
MCS Control Systems Ltd. - 150
Metal Processes - 68
Metpro - 167
MHA MacIntyre Hudson - 264
Micro-Mesh Engineering - 135
Midland Deburr and Finish Ltd - 163
Midland Pressure Diecasting Ltd - 184
Minster Micro Computers Limited - 81
Multi Stroke - 123
My Workwear - 234
NDT Midlands - 120
Network Packaging - 160
Norton Fluid Power - 282c
Nufast Limited - 200
O.L.D. Engineering Limited - 82
Ovako - 165
Pemberton Engineering - 203
Pentangle Engineering - 218
Petford Group - 211
Phoenix Tooling and Development Ltd - 141
Pilz Automation Technology - 251
Plastic Coatings Ltd - 66
Plastil (UK) Ltd - 202
Portakabin Ltd - 153
Power Capacitors Limited - 244
Power System Services - 187
Pressmark - 213
Pro-Tek Engineering - 136
Production Engineering Solutions - 225b
R & D Tax Claims Limited - 91
R A Labone - 115
Rapitypes Limited - 274
Rational FX - 208
Recycling Management - 159
Rhopoint - 238
Rical Group - 137
Ricoh UK Products Limited - 175
Rossi Group - 96
Rozone Ltd - 183
RS Components - 229
RSD Pressings Ltd - 259
S&S Plastics Ltd - 2
Salop Powder Coating - 262
Samuel Taylor Ltd - 87
Sharmic Engineering Ltd - 174
Shire Leasing - 90
Siemens - 155
Sims Metal Management - 212
Smart Space - 126
SMB Pressings - 92
Smith Metal Centres - 85
Sorion Electronics Ltd - 192
Sprint Tool and Die Ltd - 280
SSC Laser Cutting - 260
Stainless Steel Services Ltd - 140
Star Micronics GB Limited - 80
Stockton Engineering - 71
Subcon Laser Cutting - 197
Summit Engineering (Birmingham) Limited - 117b
Temple QMS - 142
The Access Group - 45
The Alternative Pallet Company - 182
The MTC - 164
Thermaset - 54
Thermotec Plastics Ltd - 72
Threeway Pressings Ltd - 185
TLM Laser - 132
Top Tubes Ltd - 60
Torus Technology Group - 171
TP Engineering Ltd - 125
TQC Ltd - 214
Tri-Tech 3D - 193
TSI Packing - 219
Tungaloy - D3
UKF Stainless Ltd - 144
University of Derby - 99
University of Wolverhampton Science Park - 267
Vero Software - 265
Vision Profiles - 226
WAGO Ltd - 128
Wallwork Heat Treatment - 204
Walsall College - 5
Walter GB - 157
Walther Trowal - 3
Waveguide Lighting - 151
Wenzel UK Limited - 255
WinMan - 220
WLR Precision Engineering - 209
WMG - 253
Wrekin Sheet Metal - 179
X-Treme systems - 278
Yeoman Pressings Ltd - 221
Zicam / Man Commercial - 138
Don't miss out - Register your ticket now
Date and time
Location
Ericsson Exhibition Hall
Ricoh Arena
Phoenix Way
Coventry
CV6 6GE
United Kingdom