Made in YORK afternoon event with our famous Open Group Debate !

Thursday, 26 November 2015 from 16:00 to 18:00 (GMT)
Event Details
To be held at the Hotel du Vin from 4:00pm until 6:00pm where will have our own private meeting room. Made in YORK is all about connecting as many local businesses as possible so why not come along and see how we operate for yourself. 
AGENDA
16:00 – 16:20 Arrive, grab a coffee and cake. Everyone to be seated by 16:15 please.
16:20 – 16:30 Agenda run through and 15 second introductions from all attendees.
16:30 – 16:55  3 mini presentations
A reason to take action

 (DH)

10 top tips to pay less tax! (RA)

Angels (IS)

16:55 – 17:15 Comfort break and open networking. 
Everyone to be seated by 17:10 please.
17:15 – 17:45 Open Group Debate
The Made in YORK monthly afternoon meetings at the Hotel du Vin include an Open Group Debate which is a fantastic way to communicate with new people and share the vast experience and knowledge of all the attendees on the day.
Our topic/s for open debate will be advised nearer the time.
17:45 – 18:00 Open networking.
Refreshments - tea, coffee, pastries and savouries will be served on the day. 
Car Parking - FREE parking for up to 50 vehicles. 
Here are some Made in YORK previous event attendee comments
As far as I'm concerned, all was great!

The underlying professionalism of all the attendees makes you want to work with them.

Thank you very much for inviting me to present at your refreshing networking do!

Brilliant event - advice and support I got was very warming.

I have highly recommended it round the office.

This group is different and don't change.

I shall be able to do some business with several members.

Yes, I'll come again – let's keep on breaking the networking mould.
Want to join? 
12 months Paid Membership is only £50.00 + vat and benefits include:
• FREE attendance to our afternoon networking events 
• FREE attendance to our breakfast networking events 
• FREE access to the full membership database 
• FREE inclusion in the online directory 
1. Click here: http://www.madeinyork.biz/index.php/join-now.
2. Complete form and click Join Made in YORK.
3. An invoice for £50.00 + vat will be emailed and on receipt of payment your username and password will be issued.
Do you have questions about Made in YORK afternoon event with our famous Open Group Debate !?
Contact Made in YORK
When & Where

Hotel du Vin & Bistro York
89 The Mount
YO24 1AX York
United Kingdom


Thursday, 26 November 2015 from 16:00 to 18:00 (GMT)
Add to my calendar
Organiser
Made in YORK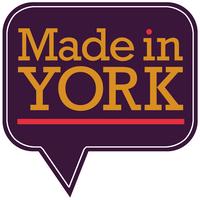 The Made in YORK networking group is exclusively for businesses that operate from a YO postcode Made in YORK is the fastest growing AND most cost-effective networking group of its kind in Yorkshire.

No referrals demanded

No forced business card swapping 

Just decent business people meeting to communicate in person



We offer a "pay as you attend" ticket option so you can come along, experience the atmosphere and chat to our members. We are 100% confident you will want to join and 12 months paid membership of Made in YORK is just £50.00 + vat and provides the following benefits:

FREE attendance to ALL our afternoon events

FREE attendance to ALL our breakfast events

FREE access to the membership database

FREE entry in our online business directory

To join click here: http://www.madeinyork.biz/index.php/join-now.
Complete your details, submit and an invoice for £50.00 + vat will be emailed. Upon receipt of payment your username and password will be issued.

The Made in YORK business networking events are limited to 30 attendees. By limiting numbers we can hold well managed events that provide everyone with sufficient space and time to communicate effectively face to face. Not rocket science.

Here's what our Made in YORK group members are saying:

Having recently become an Accredited Business Adviser in the York area and visited a lot of Networking events in the past 2 months - more than 25, I would recommend MIY as the obvious choice because of price/value and member mix. Adding these credentials alongside the genial company they will experience and the business leads they will uncover makes it a no-brainer. Like me they may wish to join a few more but start here and ask fellow members which other networks might suit their specific business best.
One of the best networking groups in the area! A real asset to businesses that need to connect to other people in the community. Such a vast array of clients involved with NO PUSHY SALES pitches or pricing structure that will break the bank.
I have now been an active member of Made in YORK for 4 months and having attended numerous other networking groups over the years I can say OUR group is by far the best. I say OUR because it does feel like an extended family. Although we all have a common interest in wanting to increase our businesses I also feel that there is a common goal in wanting to help each other's businesses as well. The beauty is that no one makes you feel uncomfortable and everyone is allowed their say. In my opinion a lot of other networking groups are full of egos and people that are in it only for what they can get. I have no worries in telling everyone that I know that this is certainly not the case in OUR group.
Joining Made in York a few months ago was the best thing I have done for my business this year. Not only have I made some good contacts but our meetings are also great at generating new ideas by listening to other members presentations on their business.
This networking group is an essential 'must attend' each month for me as a small local businesswoman. I look forward to the genuine relationships I am building and the help we give each other in a relaxed and open format. Sharing information and ideas in true collaboration.
This network is very different to other networks as a member you are not pressured by the group members to take their products and/or services, or by the organiser to provide opportunities, but business happens as  a result between members and their contacts.
As a newcomer to the area I have been made to feel genuinely welcome at the meetings I have attended so far. The meetings are open, friendly, relaxed affairs with no pressure points; just a group of like-minded people who are keen to encourage and advise. Thank you MIY.
Made in YORK afternoon event with our famous Open Group Debate !