An online drawing class exploring Madhubani-Godna style. Bandana will guide you in drawing your own version of this incredible art form.
About this event
We are very excited to be offering this continuation of the Madhubani Godna Style drawing class taught by Bandana Agarwal!
(1 week Recording Access included in all tickets. It is not necessary to have taken the previous Godna class :)
Madhubani literally means 'forests of honey' and refers to paintings in a distinct style that capture viewers' attention with their vibrancy. Madhubani folk art has five distinctive styles: Bharni, Kachni, Tantrik, Godna and Kohbar.
We will be exploring the circular Godna (tattoo) Style in this class.
Tattooing is an age-old tradition of India and tribal societies in particular. In Northern and Central India, tattooing is popularly known as 'Godna'.
Today, Godna is also created as paintings on paper. These paintings are largely composed of rows and concentric circles of flowers, animals, figures and spirits drawn with a pointed bamboo pen and lampblack ink. This style was adopted by many women and was soon innovated to include the use of bamboo brushes and a range of bright colours made from flowers, leaves, barks, berries. The themes of the paintings also expanded and they came to include complex scenes from their daily village life and ritual practices. Their pictorial alphabet began to include lines, waves, circles, sticks and snails and became more abstract.
Godna painting is inspired by body painting, whereas Madhubani (Mithila) painting is inspired by wall and floor painting. If we go back in history, we find that Godna painting is derived from the Godna (tattoo) making art of Nattins; women of travelling tribes. Nattins used to travel from village to village drawing different Godna styles on the bodies of villagers. The poorer women could not afford to wear jewellery and instead wore different styles of Godna on their body drawn by Nattins. Even today Godna can be seen on the body of elderly ladies in Northern and Central India.
You Will Need:
* Pens (Fine tipped pens or gel pens, ideally in black and red. Additionally, blue & green are welcome).
* 1 or 2 pieces of A4 sized paper (This can be any standard paper but the thicker the better, handmade paper is perfect if you have it!)
* Pencil, ruler and eraser
* If possible, a compass to draw concentric circles or a dinner plate
* Rough paper to practice on
This class is suitable for ALL LEVELS!
Everyone is welcome to join in on this Pay What You Can class… we know this is a difficult and uncertain time for many and we want to do our best to support you - As you are all probably aware, for the three of us at LDG creativity is our life-blood and our only source of income. Please be honest and pay what you can afford and our online classes will be able to run on a donations basis - if you are struggling, consider this one on the house! You just need to email us stating your situation at londondrawinggroup@gmail.com and we'll make it happen for you.
Your Zoom link will be embedded in your eventbrite "Online Event Page". Please Download and Register with Zoom in good time before the class starts.
If you need help with anything please EMAIL us through eventbrite or directly at londondrawinggroup@gmail.com - facebook and instagram messages are easily lost.
And that's it! We're really looking forward to you joining us.
Love,
LDG and Bandana
You can see what Bandana has been doing at:
www.facebook.com/Bandiworks
www.instagram.com/Bandiworks
YouTube channel: Bandiworks Artist
www.youtube.com/channel/UCVOKoqiinQmTM1nkxOeS7_w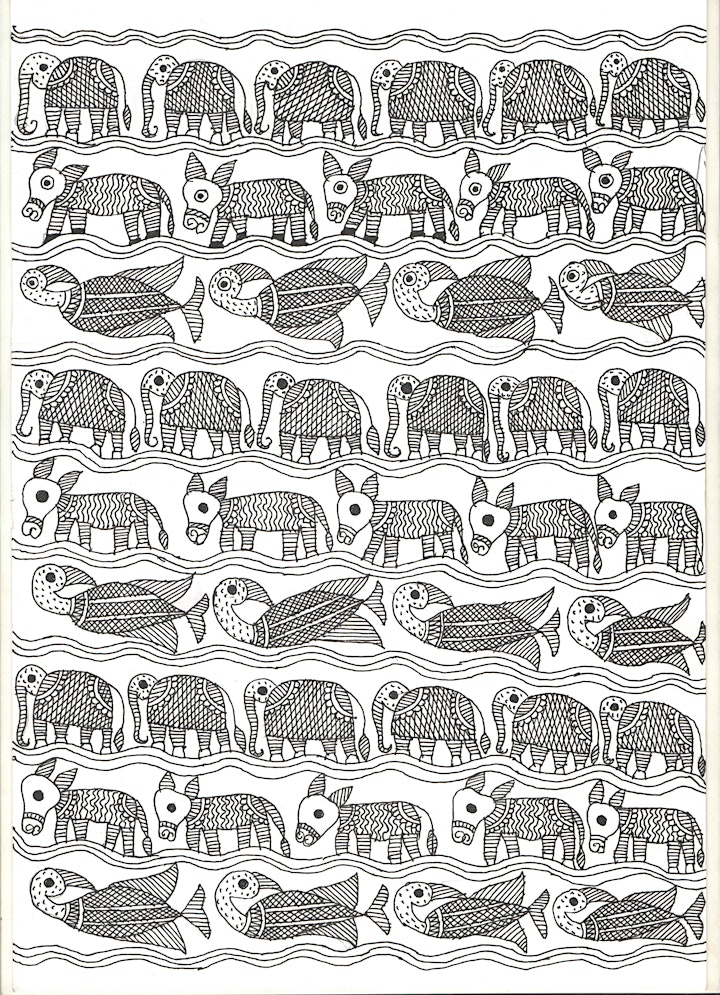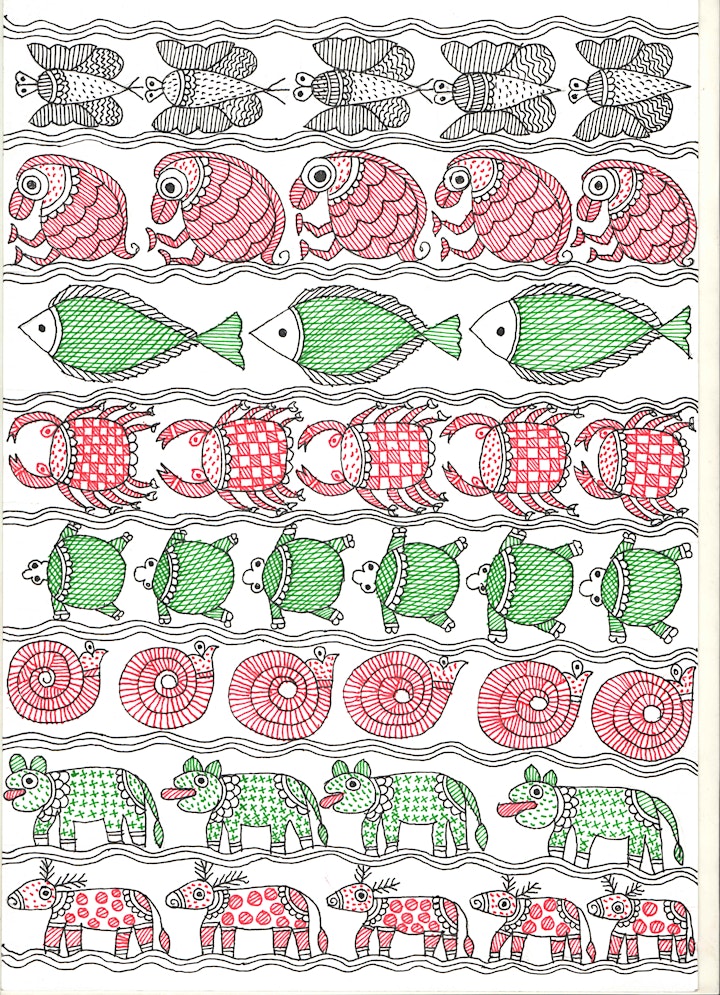 Organiser of MADHUBANI ONLINE: Godna Style Continued with Bandana Agarwal
The London Drawing Group is a collective of three contemporary artists currently practising in London. Although our practices are individually varied and diverse, we are brought together by our shared love of and passion for drawing, and our experiences of being taught by a huge range of practising artists at the Royal Drawing School Central.
Our aim as a collective is simply to get more people drawing, making, connecting and engaging with art. We genuinely believe that art is for everyone, and that sometimes the only thing keeping people from engaging in the playful, unknown and unpredictable process of art-making, is that it can seem intimidating. Through working to break down contextual barriers through innovative methods of teaching and creating, we hope to make drawing approachable to everyone.