Madlove: A Designer Asylum

Saturday, 1 August 2015 from 15:00 to 16:00 (BST)
Event Details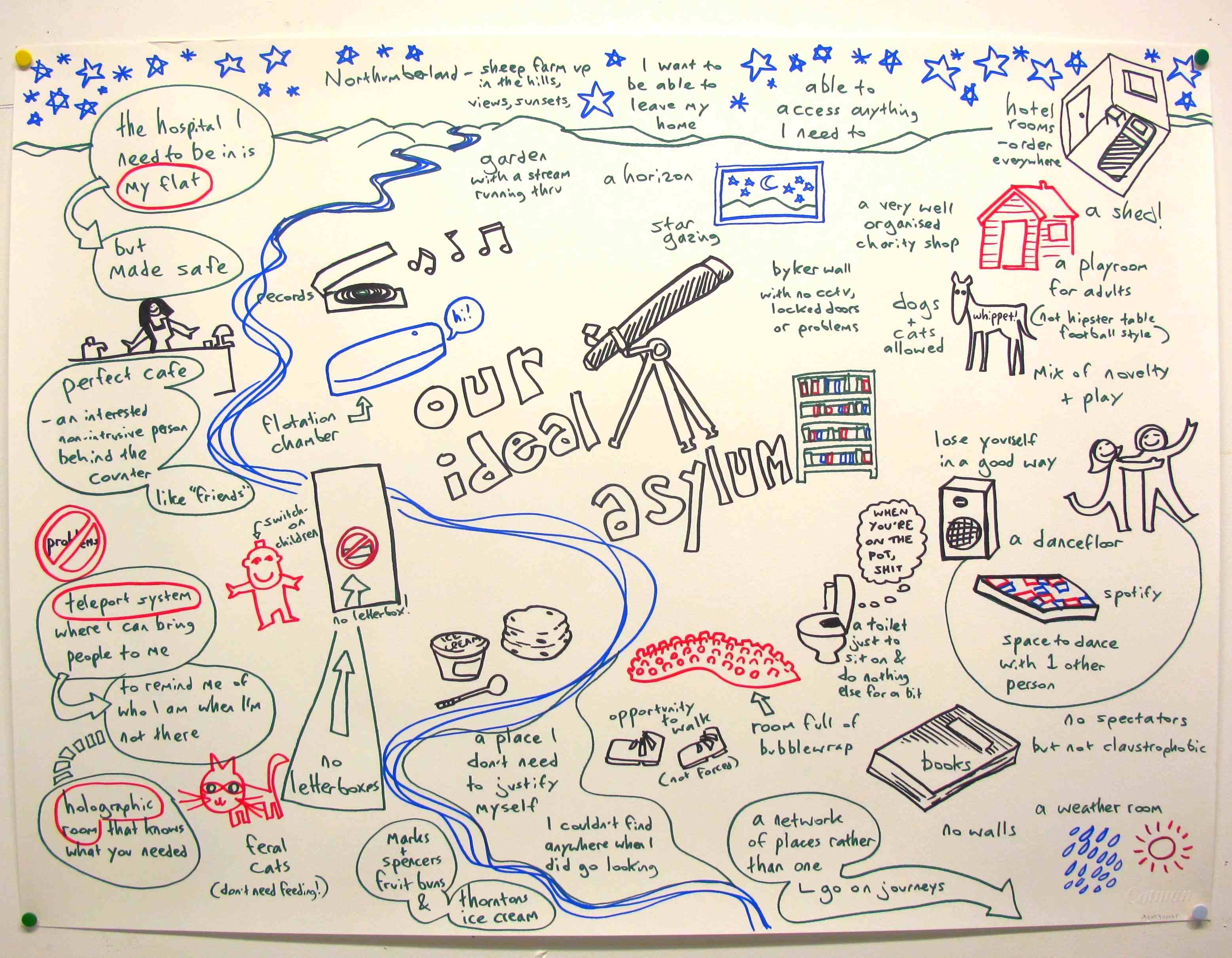 Madlove: A Designer Asylum 
An artists talk by the vacuum cleaner, in collaboration with Hannah Hull
Is it possible to go mad in a positive way? How would you create a safe place in which to do so? If you designed your own asylum, what would it look like?
Madlove is a new project by artist and activist the vacuum cleaner based on his personal experience of mental health hospitals, and his desire to find a positive space to experience mental distress… and enlightenment. In this informal artist talk he will present the outcomes of the first year of research and development. From the suggestions for a utopia asylum collected through extensive workshops, to the realisation of the beta version of Madlove this spring, through to plans for the future of the project.
www.thevacuumcleaner.co.uk | www.madlove.org.uk
---
This event is part of the current exhibition at the Bethlem Gallery
Art and the Other
15th July - 8th August

Open 10am - 5pm, Wednesday - Friday and the first and last Saturdays of the month

Curated by Juliette Brown, Alana Jelinek and Michaela Ross
Art and the Other brings together art works and objects that raise questions about our relationship to others and otherness. The Bethlem Gallery artists chosen give voice to human and non-human actors who are often relegated to the margins, confronting us with an otherness that can never be fully captured but nonetheless demands our attention.
'This world, in which reason is more and more at home, is not habitable. It is hard and cold like those depots in which are piled up goods that cannot satisfy: neither clothe those who are naked, nor feed those who are hungry.' – Emmanuel Levinas
When & Where

Bethlem Gallery
Bethlem Royal Hospital
Monks Orchard Road
BR3 3BX Beckenham
United Kingdom


Saturday, 1 August 2015 from 15:00 to 16:00 (BST)
Add to my calendar
Organiser
The Bethlem Gallery, established 1997, is situated on the grounds of The Bethlem Royal Hospital.
Managed by a small, artist-led team, the gallery provides a professional space for high-quality artwork and fosters a supportive artist-focused environment.
Exhibitions and events are programmed throughout the year presenting a wide range of mediums and contemporary practice. The gallery is an ideal platform for experimentation, collaboration and skills exchange. Collectively we strive to develop the careers, experience and expertise of the gallery artists by creating opportunities for professional development. Our successful artist-in-residence projects also work with patients and staff on site to improve people's experience of the hospital environment.
The Bethlem Gallery programme includes collaborations with Bethlem Museum of the Mind, artists-in-residence, interdisciplinary research and partnerships with arts organisations across the UK and beyond. We campaign for access to the arts in healthcare environments and engage audiences in learning and debate on the subject of mental health and artistic practice.
The gallery is free and open to all. Donations welcomed
"Pills are ok, counselling is ok and it will get you back on the streets, but what keeps your mind alive is what you learn here. That's what it's about – keeping your spirit alive." – Lee, Bethlem artist.