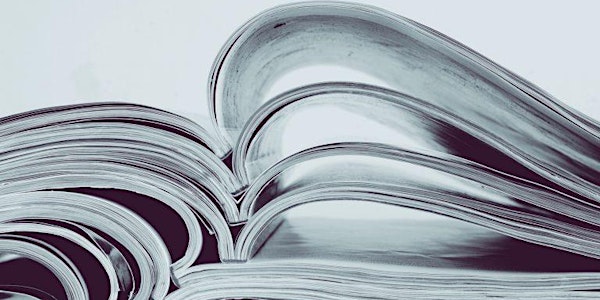 Magazine Connector: Highlands & Islands
Location
Eden Court
(Provost Smith Memorial Chapel), Bishops Court
Inverness
IV3 5SA
United Kingdom
Sales Have Ended
Registrations are closed
Description

MAGAZINE CONNECTOR: HIGHLANDS & ISLANDS
Wednesday 9th November 2016,
2PM-5PM

EDEN COURT THEATRE, invernesS
XPONorth in association with PPA Scotland is very pleased to announce the launch of Magazine Connector: Highlands and Islands – a new and essential business networking and insight event for magazine publishers in the Highlands and Islands of Scotland.
Taking place for the first time at Eden Court Theatre, Inverness on 9th November 2016, Magazine Connector will feature three major speakers from Scotland's thriving professional publishing industry – Nikki Simpson, Business Manager at PPA Scotland; John Innes of Think Publishing and Eileen McGinley, a Magazine Editor-In-Chief at DC Thomson.
In addition, HIE's Head of Creative Industries, Iain Hamilton, and Jeni Oliver, Senior Executive Creative Industries at SDI (Scottish Development International) will introduce the local, regional and international support available for publishers to grow their business.
Aimed at the Highlands and Island's magazine publishing sector – from new start-up consumer titles to well-established B2B publications – the programme for the afternoon has three main themes: Magazines – Scotland's most diverse industry; Commercial Creativity – balancing creativity and business, and Why you have never heard of the UK's biggest magazines.
Magazine Connector is a great new networking opportunity for anyone publishing or working (employed / freelance) in the magazine sector in the Highlands and Islands of Scotland. The speaker programme will be followed by an informal networking and drinks reception, and publishers and creative suppliers in the region are invited to bring copies of their titles and portfolios to display.
Magazine Connector: Highlands and Islands takes place from 2pm-5pm on Wednesday 9th November 2016 at Eden Court Theatre, Inverness. The event is free but booking is essential.
Travel bursaries, subject to application (here), are available for attendees travelling to the event from the Scottish Islands.
---
PROGRAMME:
MAGAZINES – SCOTLAND'S MOST DIVERSE INDUSTRY
Scotland is home to more than 700 titles across a huge range of topics, formats, business models and audiences. Hear from PPA Scotland's Nikki Simpson on what makes up the fantastically creative and thriving Scottish magazine industry.
Nikki Simpson is the Business Manager at PPA Scotland – the membership organisation supporting magazine publishers, set up to promote, protect and advance the industry. She's worked on some fantastic magazine-led initiatives, including a 100 Years of Scottish Magazine Publishing exhibition, the annual magazine festival and conference, Magfest, the PPA Scotland magazine Unlimited and the Scottish Magazine Awards. Passionate about magazines and publishing, she is now working to open an International Magazine Centre in Scotland – find out more at www.magfest.co.uk/imc
Twitter: @PPAScotland
WHY YOU'VE NEVER HEARD OF THE UK'S BIGGEST MAGAZINES
Read by thousands, popular with advertisers and in rude commercial health some of the largest magazines in the UK are also the least known. Find out more with John Innes from Think Publishing.
John Innes grew up in the Highlands before moving to London to begin a career in publishing. In the last 20 years he's worked on and published a diverse range of magazines ranging in subject matter from gardening to fast cars, accountancy, conservation, travel and health. John moved back to Scotland in 2007 setting up the Glasgow office of Think Publishing where the company produces magazines, online content, video and social media on behalf of organisations including National Trust for Scotland, Royal Photographic Society, Benenden and ICAS.
Twitter: @thinkjohninnes
COMMERCIAL CREATIVITY: BALANCING CREATIVITY AND BUSINESS
Creative principles and business principles often appear at odds with each other. Find out how Eileen McGinley harnesses the power of both to make engaging, vibrant and commercially successful magazines.
Eileen McGinley is a Magazine Editor-In-Chief at DC Thomson and manages a portfolio of five children's titles, and associated brand extensions. She leads a team of journalists, designers and editors to create relevant content that entertains and delights readers, whilst meeting business goals. Passionate about people, nurturing creativity and innovation, she has discovered in recent years that commercial targets don't hamper creativity, in fact, tackled in the right way, they can drive it on.
Twitter: @eileenmcginley1
---
PPA Scotland – The Professional Publishers Association -represents around 220 companies, ranging from consumer magazine publishers to business-to-business data and information providers, customer magazine publishers and smaller independent companies. http://www.ppa.co.uk/scotland/
XPONorth (Writing and Publishing) – is HIE's (Highlands and Islands Enterprise) business development and support network for writing and publishing in the creative industries. XPONorth is funded by HIE, ERDF and Creative Scotland, and is delivered by Emergents Creatives CIC Ltd. xponorth.co.uk / www.emergents.co.uk
For all enquiries or further details, please contact Peter Urpeth, Director (Writing and Publishing) Emergents /XPONorth at: peterurpeth@xponorth.net