Description
The new season of magCulture Meets continues with an evening featuring Creative Review on Thursday 28 February.
Since 1980, Creative Review has been nurturing the creative community, first as a print magazine and now across multiple platforms. Combining opinion pieces, analysis and advice on navigating the creative industries, the global title champions the thinkers, makers, leaders and doers creating work that matters.
Having previously held the title of Managing editor at the magazine, we'll be joined by newly appointed Editor, Eliza Williams who takes the reins from Patrick Burgoyne as he steps down after 20 years as Editor of the magazine.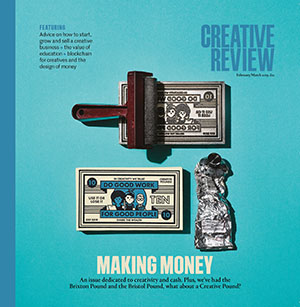 Join us to hear Eliza's plans for Creative Review, and for a closer look at the brand new money-themed issue exploring creativity, cash and starting and successfully growing a business.

Eliza is a writer, critic and broadcaster on advertising, design, art and music, and host of the Creative Review podcast. She has published two books via Laurence King, 'This Is Advertising' and 'How 30 Great Ads Were Made', and has contributed texts to several books published by Phaidon, including 'The 21 st Century Art Book' and 'The Phaidon Archive of Graphic Design'.
Doors open at 6.30pm for beer and magazine shopping and the talk will kick off at 7pm followed by an audience Q&A.

We're grateful to Park Communications and the Five Points Brewing Company for their support of magCulture Meets.
Organiser of magCulture Meets Creative Review
magCulture was launched in 2006 by Jeremy Leslie. It now comprises a design studio, online platform, events producer and magazine shop. 'We love magazines' is our rallying cry; it reflects our belief that editorial design is an ever-developing discipline that continually adapts to new technologies and circumstances. We work with clients in the publishing industry in Europe and the US, post daily reviews and opinion pieces on the magCulture Journal and run monthly events at our London HQ as well as the annual magCulture Live conferences in London and New York.