Sensational Summer Sorcery LIVE!!
About this event
Socially distanced sorcery and covid-safe comedy for all the family
Live award-winning magic, illusion, impossibilities, comedy and entertainment held within an enchanting 17th century barn theatre.
Featuring the conjuring feats of OLIVER TABOR, magic and comedy from WAYNE TRICE and the incredible mind magic of JOEL DICKENSON.
Award-winning magic and hilarious comedy featuring some of the most exciting names in magic and variety in the UK held within the atmospheric RED BRICK BARN theatre, suitable for all the family.
Seating will be at tables with entertainment presented socially distanced on stage featuring:
A wonder-filled way of witnessing wizardy, the perfect magical treat for all the family!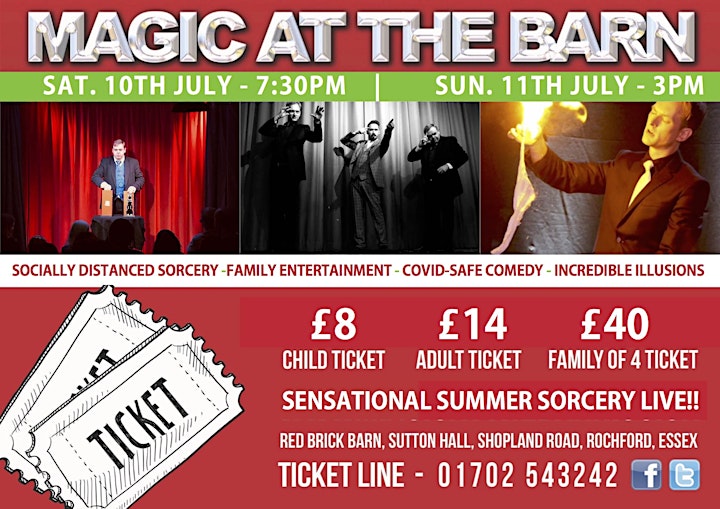 Organiser of Magic at the Barn
Headed by full time magician Oliver Tabor, the company has created and produced high quality shows featuring top UK magicians and variety acts for over 15 years. The Red Brick Barn has been home to most of their productions including the main summer shows, A Christmas Night of Magic and the Halloween shows.
They also created and produce the London show 'West End Magic' that first started as 'A Night of Magic' in 2007 at the Albany Theatre and then moved to the New Players Theatre between 2009 - 2011. It now has it's permanent home at the Leicester Square Theatre since 2013 and tours theatres around the UK.