Location
At The Coach House
22 Walpole Road
Brighton
BN2 0EA
United Kingdom
Description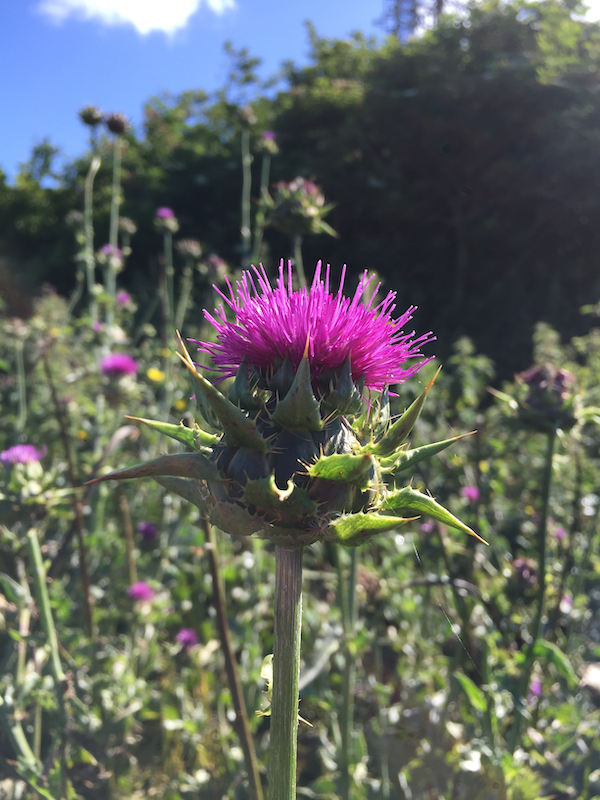 - Milk Thistle on Whitehawk Hill
THIS SESSION IS DEDICATED TO HERBS OF THE MOON
Elisabeth Brooke is a respected, well-known and widely-travelled medical herbalist who has taught workshops all over the world. She is in private practice in London and is the author of
Traditional Western Herbal Medicine and Women Healers Through History.
She qualified as a Medical Herbalist in 1980 with the National Institute of Medical Herbalists and later ran a training clinic for herbal students at Highgate Natural Health Centre, was a tutor at the School of Herbal Medicine, Tunbridge Wells, ran a private herbal practice in London, and taught the first Adult Education evening class in Herbal Medicine in London in 1981.
In 1989, she worked with the CIIR in Nicaragua and the Dominican Republic where she remained until 1999, working with Traditional Medicine in Villa Mella and La Romana. Back in the UK, she has continued to give workshops in Magical Herbalism, and Astrology and Herbalism, at Radical Herb Gatherings and many other venues. We are delighted to be welcoming her to the Coach House.
*******
About the workshops and the course.
'Working intuitively with herbs allows us to connect deeply with the character or virtue of the plant, which is often overlooked in book-learning materia medica.
Herbs are more than the sum of their parts, they can be our guides as well as our teachers, if we take the trouble to get to know them as individuals.
Sitting silently and tuning into individual herbs we discover their virtues and their actions on our physical, emotional and mental bodies as well as their use in ritual and ceremony.What that gives us is a profound knowledge of the character of the herb, which we have experienced personally, so we can choose the correct remedy for treatment or exploration. Experiencing a herb in this way is a never to be forgotten experience, you will always remember how they made you feel.
As teachers, herbs can show us our path, help us with our shortcomings and guide us on our healing journey.
No experience needed, just an open mind and willing heart.
We will work intensively with several herbs which are in season, this is the best way to tune into the deep knowledge we all have within us.
We will be using some material from my new book Traditional Western Herbal Medicine (Aeon Books, Feb, 2019)'

For booking and more details please contact atthecoachhouse@googlemail.com or phone 00447796054442