About this Event
From the edge of this ancient land, the vistas are simply breathtaking. On a clear day you can watch the sun set behind the Yorkshire Dales in the distance. Below are expansive, flat plains that go on as far as the eye can see. The skies here are simply huge.
It's the most perfect place to watch day turn to night. Contemplate the night sky. View the Perseid's meteor shower which peaks on 12 August - and if we're very lucky, see the tail end of Comet Neowise.
Regardless of whether you see constellations or not, walking at this time is an incredibly powerful way of reconnecting you to nature.
But we go one step further. Not only will you learn about planets, stars and the universe, we'll show you how to get into the whole experience even more. You'll leave feeling awe-inspired. Calmer. Restored. And zinging inside, pulsing with life.
To feel that 'aliveness' we'll head out regardless of the weather. If it's cloudy or raining it's still an incredible experience that'll leave you feeling revitalised. We'll also do some mindful walking in the dark (now that's an experience) and talk to you about the universe.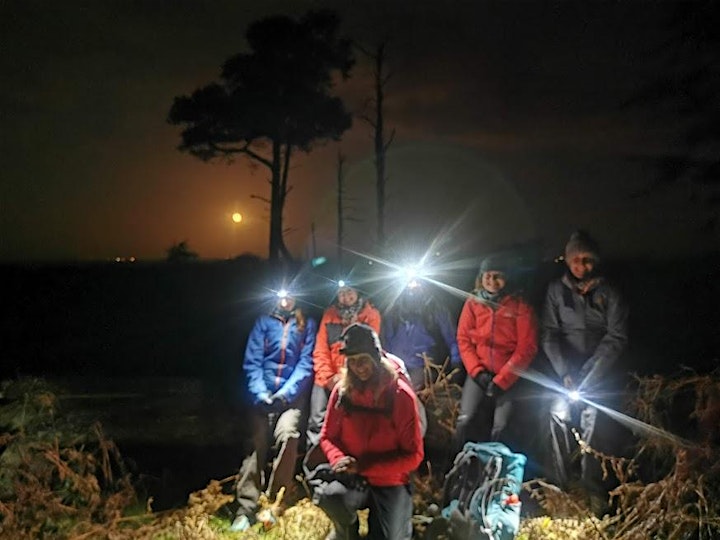 Event details
When you book, we'll let you know where to meet on the western side of North Yorks Moors National Park. We'll start the event at 9pm and finish 11 - 11.30pm.
We'll start the walk just after sunset, but it will be dark by the time we finish. The walk length is roughly 2 – 3 miles and mainly on tracks but there is some rough ground. For your comfort, a good basic level of fitness will be needed for this activity.
Please note there are no toilet facilities open at this time. But there are trees along the way!
Bring with you
Although we're in the middle of summer, weather can change quickly here. You'll need to bring with you:
an open mind & willingness to do things differently
desire for a mini-adventure
warmer layers
decent waterproof jacket & trousers
a rucksack
headtorch (any will do)
walking boots
hand sanitiser
face mask (optional as we're outdoors)
Staying over
Check out North York Moors National Park's website for lots of accommodation choices. Please check accommodation provider's cancellation policies before booking.
Tickets
There are only 5 places available on a first come, first served basis. Please refer to our cancellation policy before booking.
Ticket costs = £42
Includes: small, personal group-size (only 5 participants maximum). Services of a mountain guide and 'wellbeing in nature' instructor. Information about planets, star systems and other interesting facts about the universe. Peace of mind. Safety. Feeling calmer and awe - which is priceless!