The Nest Collective's much-loved festival celebrating the finest folk and roots music from around the world.
About this Event
This June, discover extraordinary music at the beautiful St George's in Bristol.
Wander from stage to stage immersed in music, seeking out familiar sounds & discovering new favourites. Tuck into delicious food & drink as you listen to songs by the fireside. What treasures will you find at the Magpie's Nest?
Lineup:
Emily Portman & Rob Harbron • Two of the finest and most distinctive performers on the British folk scene.
Sura Susso • "Exquisite kora playing" – Cerys Matthews, Songlines
Ben Walker & Kirsty Merryn • BBC Folk Award winner Ben Walker joins forces with highly acclaimed singer and pianist Kirsty Merryn to create a fresh take on a tradition ripe for rediscovery.
Iona Lane • "Iona Lane seems to me already to have a very strong identity and focus as an emergent young artist. I'm impressed by the quality of her songs and her performance" – Karine Polwart
Greg Russell • Possessed of an 'extraordinary voice' that's 'full of character' (The Telegraph), over the last 8 years Greg Russell has established himself as one of the most significant performers on the U.K. folk scene.
The Ciderhouse Rebellion • Traditional rebellion at its best. Profound and eloquent, epic and haunting, wild, dramatic and occasionally unhinged.
Marie Bashiru • Hailing from south-east London, Marie Bashiru is a singer/songwriter, and her music resembles a melting pot of folk, soul and indie rock.
Hands of the Heron • Alt-folk project from Bristol. Their instantly recognisable vocal harmonies are delivered by four frontwomen, each of whom brings a signature writing style to the band's mercurial sound.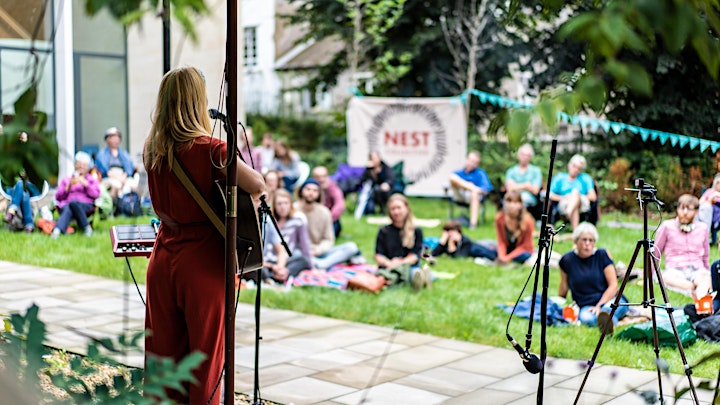 This event has been created with safety for Covid-19 in mind, and as such has a significantly reduced audience size. It reflects all the spirit and joy of our summer festivals, but has been specially devised to work in these times of distancing and restrictions. It will be smaller, but just as beautiful. If by the summer the situation allows, we will release a second wave of tickets.
We anticipate that this event will be able to go ahead, however we will keep ticket holders updated with any changes, and should cancellations be necessary then ticket transfers or full refunds will be available.
What the audience said:
"Brilliant festival. Superb quality of music and really cosy great atmosphere. More!" – Jon Herring
"A totally magical evening, such an amazing setting with excellent music." – Oli Dillon
"…only caught 2 hours but saw 5 (astonishing) bands and had my soul profoundly nourished" – @MaraCarlyle
"Wonderful music from across these isles & around the world – thanks for a fab evening" – @imogenmathers