Event Information
Location
Jain centre, colindale
The Concourse, jain centre, London.
Flightways resource centre
London
NW9 5UX
United Kingdom
join us for bhakti and celebration of mahavir janma kalyanak 2022 and seek the blessings of bhagwan for our first face to face event of 2022
About this event
Join us on Saturday 14th May 2022 as we seek the blessings of bhagwan for our First Face to Face event for many years since the beginning of the covid pandemic.
We will start in the Derasar wishing for good blessings for us all as a community, world peace in these turbulent times and inner peace and good wisdom in all Jeevs. May the macrocosm of the world and the microcosm within the minds of all move towards peace, goodwill and harmony.
Following this we will move to the hall and in front of an image of bhagwan engage in bhakti themed on the recent festival of Mahavir Janma Kalyanak. Prabhu ni bhakti karata karata, prabhu jeva bani jasho. The first video linked below provides a taster to this. Birth can be looked at in many different angles, including the physical birth, the birth at the point of Samyaktva and the birth of a tirthankar in the form of the feeling of utmost compassion to all Jeevs in this sansaar.
Link to Birth of Bhagwan Mahavir video.
We really want to encourage our members to come forward at a grassroots level and numbers will be limited to 50 people to keep this intimate, a family atmosphere and manageable. To this end we really want to encourage as many of our members as possible to pick a song, explain its meaning in English and sing the song. You don't have to be a professional level singer and the atmosphere will be quite casual and aimed at building community. Below is an example themed on the birth of Samyaktva in Bhagwan Mahavir themed along MJK 2022.
Link to second video themed on Sattavis Bhav nu stavan song ( 27 lives)
This hopefully shows as long as there is bhakti in the heart don't be scared and even if you have not sung in a crowd before, please do join us. We are also encouraging tabla players and musicians to join us with their instruments. Again, you do not need to be professional level as this is with family.
Following this there will be a free simple meal provided for all of our members. We expect this to be a popular event so please do get in touch to both attend and contribute by singing/playing an instrument. We have limited space for all the above and would love for you all to join us. Further details are on the poster below.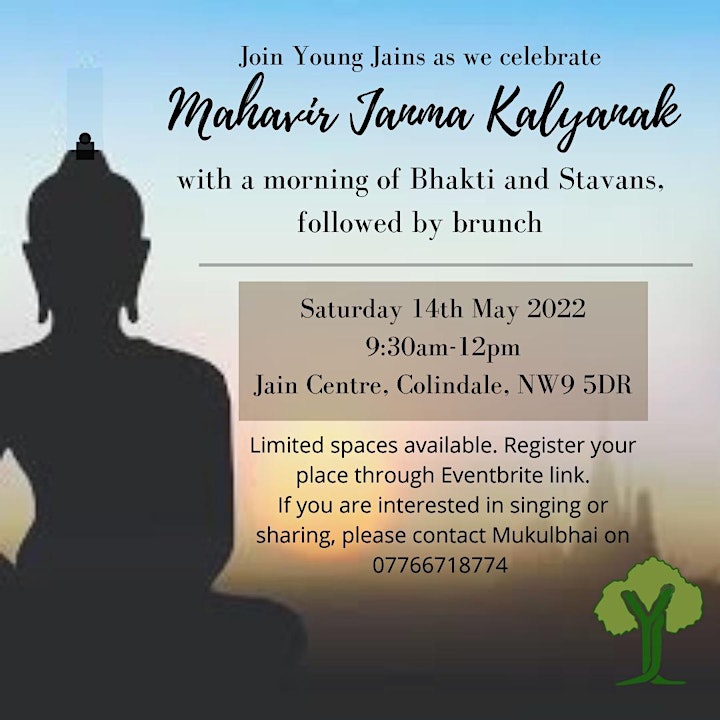 Date and time
Location
Jain centre, colindale
The Concourse, jain centre, London.
Flightways resource centre
London
NW9 5UX
United Kingdom