Description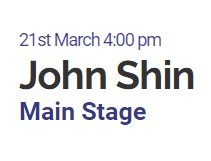 John

Shin
John Shin, entrepreneur, philanthropist, executive producer, author, motivational speaker, and critically-acclaimed business coach, captivates his audiences with a sense of humor and contagious energy that keeps people on the edge of their seats after 12 hours of intensive mentorship.
He has mentored and trained hundreds of thousands of people nationwide to become successful business owners. In John's own words, "Show me your mentor, and I'll show you your future."
Throughout his career, John has been featured in Forbes Magazine (August 12, 2013 Edition) and Forbes Special Edition as well as Finance Magazine and Advantage Magazine.
As the modern-day author of the bestselling book, Think and Grow Rich, written by Napoleon Hill in 1937, and the Executive Producer of the feature film, Think and Grow Rich: The Legacy, John continues his mission to inspire young entrepreneurs everywhere. Driven by the principles of Napoleon Hill's bestseller himself, John was inspired to contribute to the Napoleon Hill Foundation. Soon after, he met with the board of the foundation and was struck with the idea and passion to create a feature film to capture the legacy of this book. This film, currently sweeping across the nation, has catapulted the legacy of Think and Grow Rich into the modern digital age.
His desire to give back does not stop there. As the co-founder of All For One, a nonprofit organization, John helps to create child prosperity centers across the globe. He also sits on the board of the nonprofit organizations, Mixed Roots Foundation and Asian Voices, and has worked with organizations such as UNICEF, Save the Children, and CARE. His unyielding persistence, desire for greatness, hope for the future, and of course, flair for entertainment has established the mentor and leader that is, John Shin.
FOR INFO:




The Best You EXPO started 5 years ago now with the dream of helping people live a life without limits. A place where like-minded individuals with the common purpose of becoming The Best Version of themselves.
The Best You EXPO is now the largest personal development gathering on the planet, over 40.000 people have attended this life-changing event and more than 700 speakers have shared this platform to share wisdom, knowledge, and expertise.
The Best You EXPO is coming back to LA, Join us in 2020 on the 20th and 21st of March in LA, You will Love it!

Amazing Experiences!



FOR INFO: