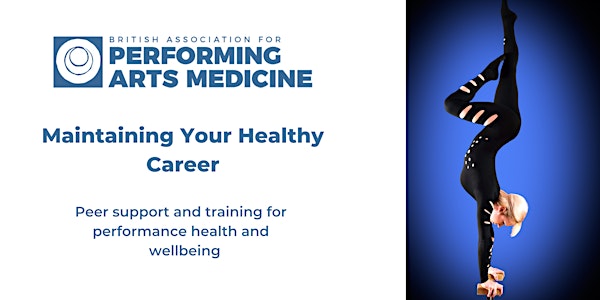 Maintaining Your Healthy Career: Core Stability for Performing Artists
Sales Have Ended
Registrations are closed
Ticket sales have now ended. Please go to: https://www.bapam.org.uk/events/ to see up coming webinars in our Healthy Practice series
BAPAM's Maintaining Your Healthy Career: Peer support and training for performance health and wellbeing
About this event
BAPAM deliver expert health and wellbeing services in the performing arts. Our events give artists, creators, technicians, teachers, and organisers the knowledge they need to improve health and enjoy sustainable careers.
Join our free online peer support group and:
Embed health and wellbeing strategies into your creative toolkit
Learn new skills with guest coaches and speakers.
Set goals
Take part in peer discussion and support in a safe space facilitated by an experienced BAPAM clinician
Maintaining Your Healthy Career is hosted and facilitated by BAPAM GP, Dr Pippa Wheble, who specialises in performance and mental health and is also a violinist and singer.
Core Stability
The term core stability has become familiar to most of us over the last few years – but what does it actually mean and why is it important? This session aims to explore the truth and dispel the myths about core stability from a Physiotherapists perspective. The practical component aims to energise and strengthen the deep postural muscles which make up the core.
Guest Trainer: Lucie Rayner
Lucie Rayner is a Chartered Physiotherapist and assessing clinician for The British Association for Performing Arts Medicine (BAPAM) and specialises in treating performing artists with a wide range of musculoskeletal problems. She has extensive experience in managing acute and chronic injuries in dancers, musicians, and other performers from amateur to elite level. She currently works freelance in a variety of settings, including supporting West End musical theatre performers.
Lucie initially completed a Sport Science degree before qualifying as a Physiotherapist. She worked in the NHS, school and private sector before starting her own Physiotherapy clinic in 2012. She has been practicing the Pilates Method for over 15 years and gained her teaching qualification through The Australian Physiotherapy and Pilates Institute (APPI). She is also a Level 2 accredited Vocal Health First Aider and has a special interest in hypermobility, injury prevention and health education.
In 2020, she completed an MSc in Performing Arts Medicine at University College London (UCL) and was awarded the Dean's Prize for her research related to hypermobility and dancer health screening. Lucie now an honorary lecturer and module lead on the Performing Arts Medicine programme at UCL.
You are welcome to attend the whole series or choose the sessions you find most relevant. Attending all the sessions provides structured ongoing support - set health goals and use the sessions to help you meet them, get peer support, encouragement and motivation, and explore new creative perspectives. Check our events page, sign up to our Newsletter, or follow us on Eventbrite for more information.