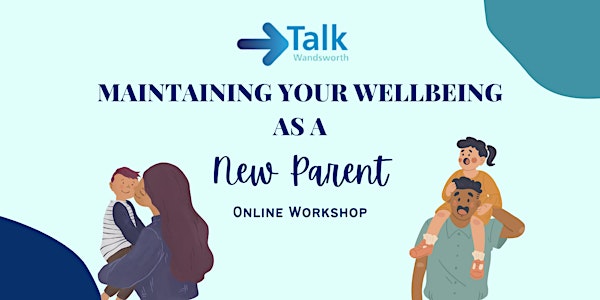 Maintaining Your Wellbeing as a New Parent - Online Group Workshop
Being a new parent comes with challenges for wellbeing. This workshop focuses on looking after your wellbeing during this period.
About this event
**PLEASE NOTE – these are uncertain times for everyone, and increasingly challenging for NHS services. We are delighted that workshops are selling out, however, we have seen an increase in attendees being uncontactable for their sessions. Whilst we appreciate each day brings new obstacles in isolation, we do ask that you plan your days accordingly to be able to attend a booked workshop. If you cannot attend a booked workshop, please do cancel 24hrs in advance by phoning 020 3513 6264, otherwise spaces are unavailable for people who really need them during this time. We are extremely appreciative for your cooperation whilst we strive to reach every Wandsworth resident who would like to access our services.**
An engaging online workshop delivered on MS teams; aimed at discovering how as parents with little time for self-care, you can prioritise you and your wellbeing and in doing so, be so much more for so many others. As the saying goes, 'you can't pour from an empty cup'; we explore the concepts of self-compassion and self-care in relation to the challenges of parenthood and discuss how best to balance life after the arrival of your new addition to the family!
This wellbeing workshop is free for all residents of the London Borough of Wandsworth or those registered with a Wandsworth GP who are over the age of 18. Our Wellbeing team is focused entirely on improving the emotional, physical, spiritual and overall wellbeing of the residents of Wandsworth. We want to work towards providing a more inclusive and socially adapted service for the borough whilst lowering the stigma and discrimination attached to mental health & wellbeing and the services that exist to support these areas of our lives.
This wellbeing workshops aims to help you understand more about overcoming barriers, becoming comfortable interacting with others and finding solutions, techniques and learning practical skills to help you improve your own Wellbeing. Our sessions are held on a regular basis in a private setting and led by a Wellbeing Practitioner from the service. Prior to the workshop you will be asked to complete a short questionnaire aimed at ensuring we offer you all the support you require. If you have queries regarding this, please speak to the Practitioner at the start of the session.
We all have mental health, it's ok to talk.
For more information please visit our website on; www.talkwandsworth.nhs.uk
Alternatively call the service on 0203 513 6264
To stay connected and keep up to date with our latest info, you can also follow us on social media:
Twitter: @talkwandsworth
Instagram: @nhstalkwandsworth
Nextdoor: NHS Talk Wandsworth