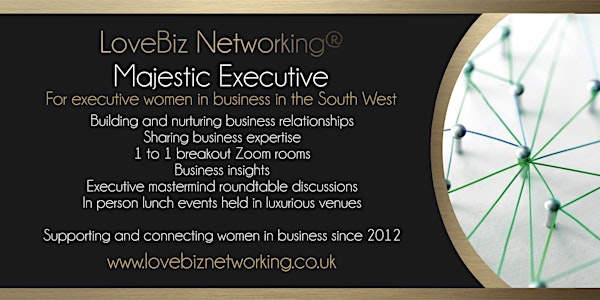 Majestic LoveBiz Networking® Online Meeting for Executive Women in Business
A vibrant networking community with groups across the UK to support, connect and empower executive women in business in the West Midlands.
About this event
Would you like to build and nurture business relationships, expand your network or meet new potential clients? Also hearing essential business insights to support you and your business?
Please do come and join us at our next Majestic #LoveBiz Networking® online event for executive women in business in the West Midlands, where your hosts can connect you with other like minded women in business.
Our structured #LoveBiz Networking® monthly executive meeting is on Tuesday 12th July 2022. (9.30am to 11.00am)
LoveBiz Networking® was established in 2012, and brings together and connects businesses owned, managed or represented by women and is an energetic and supportive networking community across the UK to connect and empower women in business from all business sectors.
Guests are very welcome to attend, we do not lock out or have a 1 seat policy.
Agenda
9.30am - Welcome to the Zoom room.
9.45am - 30 second introductions and #LoveBiz member showcase.
10.05am - Business Insights.
10.15am - 1 to 1 or group networking in breakout rooms.
11.00am - Farewell.
Hosted by Sue Crooks.
Our networking event is held over Zoom. Your Zoom ID will be sent to you 24 hours before the online networking event via email. Please check spam folders.
Bookings close for this event 24 hours in advance.
Membership details can be found here: https://www.lovebiznetworking.co.uk/executive-lovebiz-membership