Description
Make 2017 Your Best Year In Business
Call To Action - Workshop
For one day we will be in your corner, helping you plan a fantastic 2017 for your business AND giving you all the tools to make it happen.
Where are you in business today? Are you succeeding as you planned? Has this year been a huge success or is there still a gap between the reality and the dream?
Our mission is to help you become a smarter marketer -- everything we create and do, is with this in mind. We know that if you get your marketing right, consistently, you'll bridge that gap quickly.
We built Marketing Jumpleads to help businesses of all sizes grow by making it easy to engage with their customers, and to find new ones.
Are you a small business owner? A social media manager? A marketing manager?
This workshop is for you. Designed to help you make those vital steps to make 2017 really successful. It's often way easier and quicker than you think. You just need a fresh point of view on the next best actions in order to push the business forward.
It's great having ideas. Plans. What is often then missing though are the skills and knowledge to put these into action. You'll get both on this day and in the subsequent weeks.
This is a practical day. We'll share REAL business strategies that you can afford in terms of both time and money.
Here's what we'll cover.
We'll help you get a really clear picture of where you are now and where you want to get to.

We'll then work out what the gap is between the two.

Together we'll break that down into actual, meaningful steps to bridge the gap.

Then we'll help you build a plan so you know what needs to be done, and in what order.

PLUS we will give you the tools, a complete library of video led step-by-step courses, to make sure you have everything you need to get it done.
"There is no point having the plans and the ideas if you don't know how to actually put them into action."
You'll leave with an exact plan. The key steps to keep quality customers finding your business PLUS all the resources, training and execution skills at your finger tips to get it done. Ticked off.
Imagine starting 2017 knowing you have a well oiled, consistent marketing machine set-up and working hard for your business. Week in, week out, finding you prospects, closing sales and keeping customers delighted.
There's no point getting to January and then wondering how you'll grow in 2017. Start with us in November. Get all the key steps mapped out AND in place so when you come out of the blocks on 1st January 2017, you'll be ready.
Your business will be ready like never before.
Running a business can be a lonely and often difficult route. Genuine highs and lows. Take one morning out to get some expert help in your cormer. We'll show you how to strip back the day-to-day 'noise' of your business and plan the really important next marketing and business steps.
As with any of our events it will be fun, fast paced and enjoyable. You'll leave excited all over again about the possibilities for your business and KNOW EXACTLY how to harness them.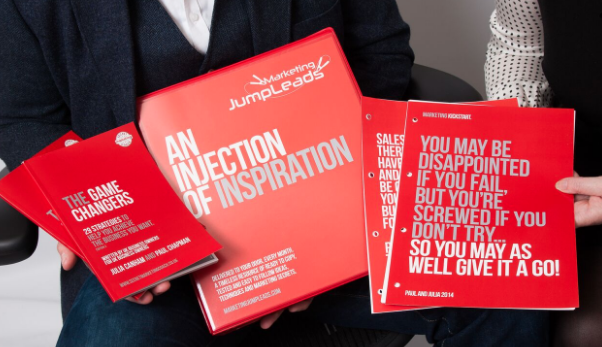 Bonuses for Booking (Worth £586 if you're quick!)
One super charged Workshop on 10th November 9-1pm, Antenna Nottingham PLUS....
Bonus 1: Complete access to the ENTIRE Marketing Jumpleads Library (over 25 courses) until the end of 2016 (normally £69/month +vat)

Bonus 2: LIVE Webinar and chat two weeks later to help you keep on track. We'll be there to answer any questions you have, or issues that might be slowing you down. This will be recorded so you won't miss a thing.

Bonus 3: Book Early (before 27th October) and also receive: A Free Social Media Audit (normally £249) Our expert eyes on your social output to see if it is helping...or harming your business.

Bonus 4: PLUS the first 10 attendees to book will also receive a 60 minute 1-2-1 with Paul face-to-face to work on their business (normally £199).
Let's together make 2017 your best year in business.
Look forward to seeing you on 10th November,
Paul
Paul Chapman
paul@marketingjumpleads.com