About this Event
Join us at this relaxed, informal workshop where you will learn how to make your own festive wreath from scratch using seasonal foliages and decorations.
Learn how to build a base using fresh moss which we buy each year from the Lake District - we find people quickly fall in love with the smell and feel of the soft damp moss as they bind it to the circular wire frame
Add depth and texture to your wreath by creating bundles of seasonal foliage and berries to fix to the moss base - cutting the foliage releases up-lifting aromas of fresh pine and eucalyptus filling the room with the smell of Christmas.
To finish, choose from a selection of festive decorations such as dried oranges and cinnamon sticks, to add your own individual touch. There will also be a choice of ribbons in different colours for you to make a hook to hang your wreath.
Tea, coffee, festive treats and a sprinkling of cheesy Christmas songs are all included in the price.If you would like to add fairy lights to your wreath please email the organiser for details when you make your booking.
To book a private home or office workshop please email workshops@justsopopups.co.uk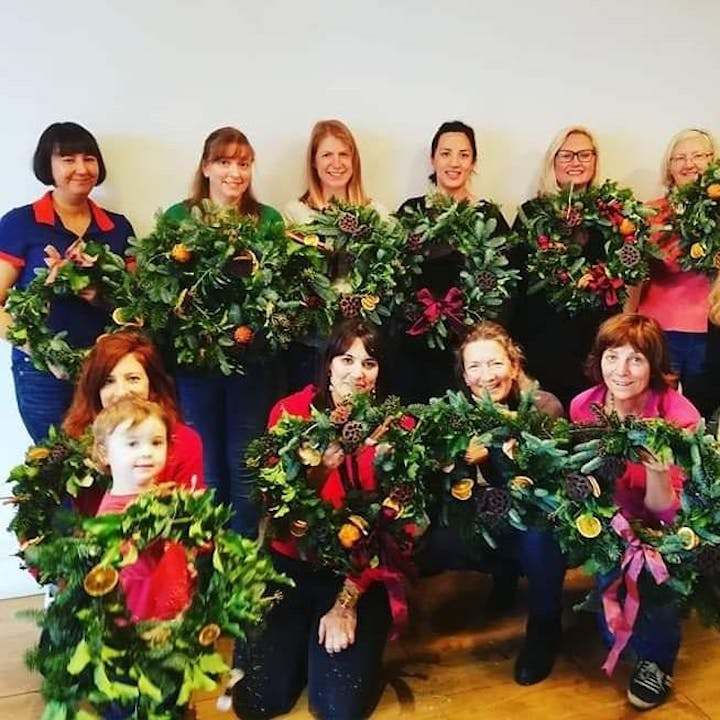 We had a lovely workshop at Space AT61 last December with some very talented ladies and our youngest ever wreath-maker!
Customer reviews:
Kay is a gorgeous human who is just so calming and caring- her workshops are simply good for the soul, besides helping you create masterpieces!
Such a fabulous evening and very informative! Kay has a great background and the wreath making workshop she put together for my friends and I was top drawer! I've never been more proud of a wreath. Every single one created showcased our different personalities. Excellent quality decorations and well prepped for our evening. I would absolutely recommend Kay! Loved it!
For more reviews please head on over to our Facebook page at facebook.com/justsoflowers