Join us for a fab creative afternoon learning a new craft and help local creative practitioners test new workshop ideas.
About this event
Join us at Durham Town Hall for a fantastic afternoon having a go and see if you can pick up some new creative skills. Cake and refreshments will be served.
We are proud to highlight 9 talented, creative practitioners from across the County who've been part of Creative Fuse NE's 'Teach Your Art' programme, which took place as part of the Summer in the City Festival. These are experienced professionals who have been developing new arts and crafts workshops; now we need YOU to help them test them out!
Once you arrive at the event, we'll check you in and then assign you to one of the workshops, which will last about 2 hours long. We will also have other fun activities you can get involved with (such as sand art, a creative Lego table, and a creative word-thought wall), and you're welcome to browse and observe the work of all of the artists with us on the day. There's no charge for this event. In addition to running workshops, our creatives will have items for sale. It's going to be experimental, fun, and extremely creative!
Creative workshops will include:
Stencil poetry writing
Screen printing
Japanese collage (chigiri-e)
Copper wire wrapping
Applique sewing (upcycling)
Leatherworking
Painting
Embroidery
**TICKETS**
As of October 14, we have two types of tickets available:
Creative Workshops : Register for a Creative Workshops ticket and in addition to having general admission to the event--where you can enjoy our creative activity tables, and have a browse of our artists' work--we'll also assign you to one of the creative workshops happening on the day! A limited number of these tickets remain.
General Admission: Alternatively you can select a 'general admission' ticket to have a browse, enjoy our creative activities, and watch the workshops as they get underway. These tickets are limited as well, though more may be made available. Please note that a general admission ticket will not give you access to a creative workshop (unless spaces become available on the day).
Tickets are very limited to this event, so please sign up soon. We will also have a waiting list and release additional tickets as we're able to.
Also, please note that while all of our artists love working with children, this particular event is *not* designed with children in mind and there will be no childcare provision available during the event itself.
Any questions, please contact the Creative Fuse NE team at Durham University at creativefuse.ne@durham.ac.uk.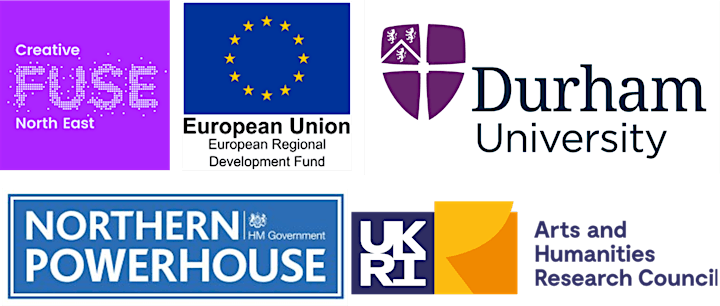 Organiser of Make in Durham!
Durham University's Creative Fuse North East (CFNE) team is engaged with the creative sector in the transitional County Durham area to help create new means to support businesses working within the creative economy. Creative Fuse North East equips organisations with new creative confidence and capacity to develop innovation partnerships and ways of working, in order to respond to the challenges that matter to them.
CFNE is funded by the European Regional Development Fund (ERDF) and the Arts and Humanities Research Council (AHRC). SMEs will be required to complete an application evidencing eligibility in order to participate.
Please contact the team at Durham University by reaching out at creativefuse.ne@durham.ac.uk for further information or to have a chat. Visit http://creativefusene.org.uk for more about Creative Fuse North East in general.