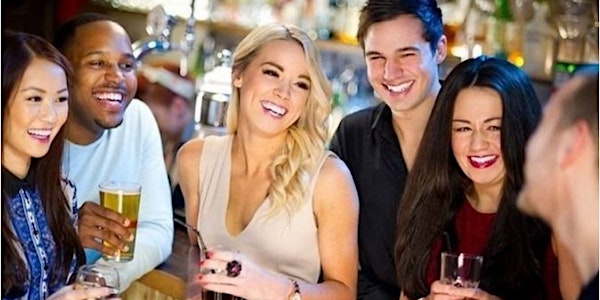 Make new friends with like-minded Ladies & gents! (21-45/Hosted) BRUSSELS
Location
Caberdouche
8 Place de la Liberté
1000 Bruxelles
Belgium
Join us for a wonderful evening where you can meet new like-minded ladies and gents, make friends and have a great time at Caberdouche!
About this event
Join us for a wonderful evening where you can meet new like-minded ladies and gents, make friends and have a great time at Caberdouche!
JESSICA, your charming host will be there to welcome you warmly into the group and also help you with introductions!
We welcome locals and internationals both!
**Kindly note that you can pay via Paypal, Credit Card or Debit Card. To purchase via debit/credit card please click on 'Place Order' and you will be shown payment options.
EVENT COST:-
Early Bird Ticket - €5 / person
Regular Ticket - €10 / person
Cash at meetup: If you do not purchase a ticket in advance then you can pay JESSICA cash of €15 when you attend.
Have a look at photos from our recent meetups and see what you have been missing! http://bit.ly/MeetupPictures
-------------
(We are using Google translate for speed and so excuse any errors please)
Rejoignez-nous pour une merveilleuse soirée où vous pourrez rencontrer de nouvelles femmes et hommes partageant les mêmes idées, vous faire des amis et passer un bon moment à Caberdouche !
JESSICA, votre charmante hôte sera là pour vous accueillir chaleureusement au sein du groupe et aussi vous aider à faire les présentations !
Nous accueillons les locaux et les internationaux!
**Veuillez noter que vous pouvez payer via Paypal, carte de crédit ou carte de débit en utilisant le lien ci-dessus. Pour acheter par carte de débit/crédit, veuillez cliquer sur "Passer commande" et les options de paiement s'afficheront.
COÛT DE L'ÉVÉNEMENT : -
Billet Early Bird - 5 € / personne
Billet régulier - 10 € / personne
Espèces lors de la rencontre : si vous n'achetez pas de billet à l'avance, vous pouvez payer JESSICA en espèces de 15 € lors de votre participation.
Jetez un œil aux photos de nos récentes rencontres et voyez ce que vous avez manqué ! http://bit.ly/MeetupPictures
Few key points:
We have our area booked for Meetup/JESSICA ( Annex room - at the back of the bar)
JESSICA will be hosting this event. You will be warmly welcomed at the venue and also introduced to other attendees, so there's no need to feel nervous!
The Bar has a wide choice of fabulous drinks!
Please be aware of government guidelines regarding the COVID pandemic and any necessary precautionary safeguards. Please do not attend if you show any potential symptoms or are generally feeling unwell.
Please note: If our event gets cancelled due to covid restrictions then ticket buyers can attend events when they are scheduled please. If not they can also ask for a refund.
The age group 21/45 is an indicative guideline. You are welcome to attend if you are a few years either side of the guideline.
Dress code - Smart casual
We have 2 meetup groups in Brussels with over 9,100 members and we will be inviting members from all those groups to attend. Members of other groups who RSVP are included as guests of the organiser in order to give you an idea of expected numbers.
We are not a dating group. Our events are not organised to manage your dating life. Our group is created to help ladies and gents meet other like minded ladies and gents. Please do not attend our event if a perfect gender balance is important for your enjoyment of our meet-up. Keep an open mind and join us to make new friends.
You can contact JESSICA through her meetup profile or Dan on whatsapp on +447715705005 with any questions.