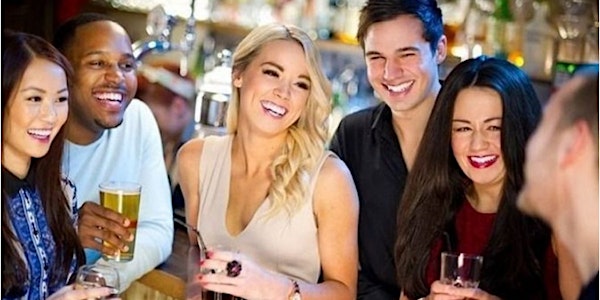 Make new friends with like-minded ladies & gents! (25-50/Hosted) MUNICH
Location
Yokocho Karaoke Box & Bar
Werksviertel Werk 3
81671 München
Germany
Join us for a wonderful evening where you can meet like-minded ladies and gents, make new friends and have a great time!
About this event
Join us for a wonderful evening where you can meet like-minded ladies and gents, make new friends and have a great time!
EMILIO will be your charming host for the evening! We welcome locals and internationals both!
** Please note that you can pay via Paypal, credit card or debit card. To purchase via debit/credit card please click on 'Place Order' and you will be shown payment options.
EVENT COST:-
Early Bird - €5 per person
Regular Ticket - €10 per person
Cash at Meetup - If you do not purchase tickets in advance then you can pay €15 cash to EMILIO when you meet him on the event day.
Have a look at photos from our recent meetups and see what you have been missing! - http://bit.ly/MeetupPictures
(We are using Google translate for speed and so excuse any errors please)
Begleiten Sie uns auf einen wunderbaren Abend, an dem Sie gleichgesinnte Damen und Herren treffen, neue Freunde finden und eine tolle Zeit haben können!
EMILIO ist Ihr charmanter Gastgeber für den Abend! Wir begrüßen sowohl Einheimische als auch Internationale!
VERANSTALTUNGSKOSTEN:-
Frühbucher - 5 € pro Person
Reguläres Ticket - 10 € pro Person
Bargeld beim Meetup - Wenn Sie keine Tickets im Voraus kaufen, können Sie EMILIO 15 € bar bezahlen, wenn Sie sie am Veranstaltungstag treffen.
Schauen Sie sich Fotos von unseren letzten Treffen an und sehen Sie, was Sie verpasst haben! http://bit.ly/MeetupPictures
Important points:-
EMILIO is hosting the event. He will welcome you warmly at the venue and introduce you to a few other attendees so long as you come early.
We have our area booked for Meetup/EMILIO
Dress code - Casual/smart
Please be aware of government guidelines regarding the COVID pandemic and any necessary precautionary safeguards. Please do not attend if you show any potential symptoms or are generally feeling unwell.
Please note: If our event gets cancelled due to covid restrictions then ticket buyers can attend events when they are scheduled please. If not they can also ask for a refund.
Please be aware that about 90% of those who attend come alone and about 80% are attending for the first time. You will not be alone. We know how you may feel and EMILIO will take care of you.
The age group 25/50 is an indicative guideline. You are welcome to attend if you are a few years either side of the guideline.
We have 6 meetup groups in Munich with over 17,150 members. (Members of those groups who RSVP will be shows as guests of the organiser so that you know how many people you can expect at the meet-up.)
We are not a dating group. Our events are not organised to manage your dating life. Our group is created to help ladies and gents meet other like minded ladies and gents. Please do not attend our event if a perfect gender balance is important for your enjoyment of our meet-up.
OUR GIFT TO YOU-
VIDEOS WHICH INFORM, EQUIP & DEVELOP -
6 key reasons why you should attend our meetups - http://bit.ly/attendourmeetups
See how to make people like you instantly - http://bit.ly/makepeoplelikeyouinstantly