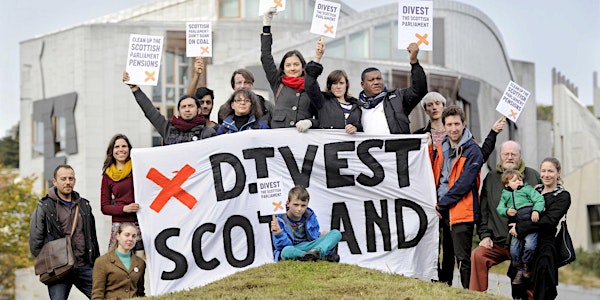 Make Scotland Fossil Free: Divestment Training Day
Event Information
Location
Quaker Meeting House
38 Elmbank Crescent
Glasgow
G2 4PS
United Kingdom
Description
Join the fight to free Scotland from its harmful investments and relationships with fossil fuel companies!

This FREE training day is your opportunity to learn how to lobby your MP, MSP, Councillor or university on climate change and divestment. We'll be learning and putting into practice the best techniques, tricks and strategies to convince your top targets to get behind a clean energy future and divest funds from fossil fuels.
As well as a free vegan lunch and delicious snacks - now we've got you hooked - you can expect to:

Meet others who are campaigning for a fossil-free future in Scotland and learn about the various campaigns taking place.

Learn, discuss and practise techniques for successful lobbying on divestment and climate change.

Participate in skill-share sessions focused on building a strong team and community outreach around your campaign; knowing how to work the local and national press to amplify the stories behind and progress of your campaign; and campaign strategy for planning and running an effective campaign.

Meet, join or help start a local divestment group in your area.
During this event, you will hear all about how the exciting and growing fossil free movement in Scotland is aiming to to break Scottish ties with an industry that is culpable for the climate crisis, including our work to divest local authority pension funds from fossil fuel companies and to reinvest in sustainable and local economies; how students are cleaning up their university endowments; how constituents are pressing their MSPs and MPs to make sure the Scottish Parliament and Westminster Parliament is a world leader in ethical and environmentally responsible investment; and how the arts community is pressuring world renowned Scottish cultural institutions to end sponsorship deals with companies like BP and Shell.
Note - please only book your Eventbrite tickets when you are sure you are coming - this is to help us plan for catering! #hatefoodwaste
DRAFT AGENDA
Please join the Facebook event for latest updates: https://www.facebook.com/events/1522381844477359/
10.30 ARRIVALS (for 11am start)
11-11.45 Introductions & Campaign Overview
11.45-13.15 Lobbying Workshop
13.15-14.00 LUNCH
14.00-15.00 Parallel Workshops on Media, Building Strong Groups, Campaign Strategy & Powe
15.00-15.15 BREAK
15.15-16.00 Networking Time
16.00-16.30 Closing Session: where do we go from here?
FAQs
* Lunch will be provided for free (vegetarian/vegan) and refreshments will be available throughout the day. Please advise us of any other dietary requirements in advance by emailing jdaigre@foe.scot

* The venue is fully wheelchair accessible.

* We don't want travel costs to prohibit attendance for people on low incomes, so please email tytus.murphy@gmail.com if you need any help with travel costs.

* This event is hosted by Friends of the Earth Scotland, Fossil Free Glasgow and Divest Parliament. Please email jdaigre@foe.scot if you have any other questions about the event.
* This is a free event with no prior experience required.
Date and time
Location
Quaker Meeting House
38 Elmbank Crescent
Glasgow
G2 4PS
United Kingdom