Make Some Noise: Over the Edge, at Severn Estuary

Saturday, 29 September 2018 from 08:00 to 18:00 (BST)
Event Details
Due to the continued worsening weather forecast, we have taken the decision to postpone Over The Edge.
Over The Edge at Weston Super Mare WILL NOT be taking place this Sunday 23rd September.
ABSEIL MOVING TO SATURDAY 29th SEPTEMBER – DETAILS BELOW:
The scheduled event has been rearranged to take place next Saturday 29th September, you will remain booked at the original times.
It's understandable that you may not be able to attend this new date, if this is the case please get in touch with us by the end of the day on Monday 24th September, click "contact the organiser" at the bottom ticket/email.
We apologise that we've had to postpone the event but safety is a priority, we hope you understand the weather is out of our control.
Back for 2018, would you dare to abseil - Over the Edge of the Severn Estuary?
Make Some Noise  and  support small charities here in West Country. Heart Breakfast needs your help to raise money by abseiling down 135 - 140ft quarry cliff face that looks out over the beautiful Severn Estuary.
Join Heart on Sunday 23rd September 2018 it promises to be great fun and a real personal achievement. 
 It's as easy as 1-2-3…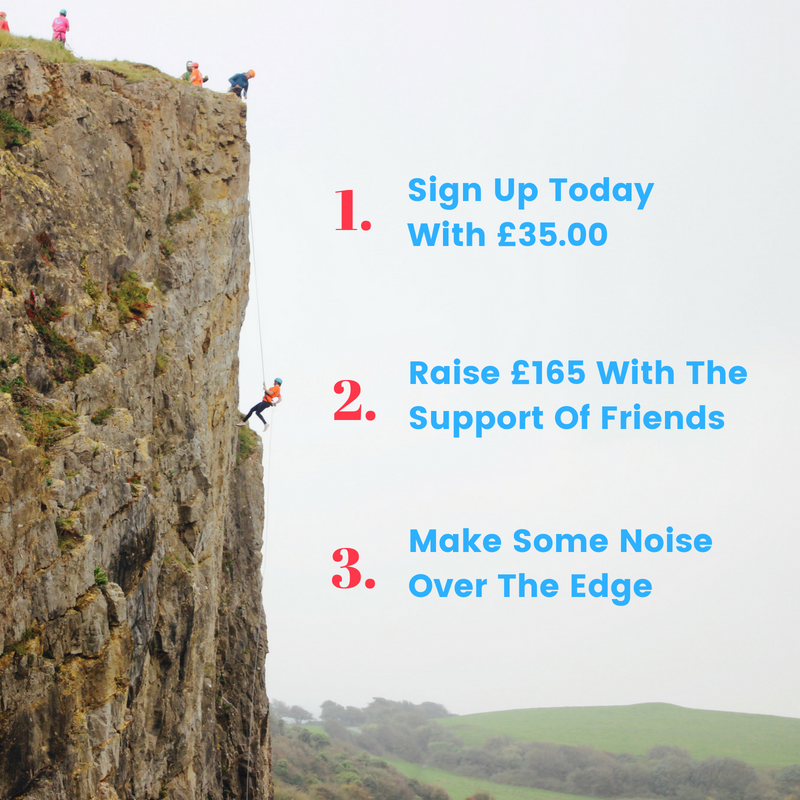 So, if you fancy facing your fears AND raising some money for a great charity then grab your ticket before we sell out. 
Recommended weight limit of 16 stone

This activity is not suitable for participants you may be permanent, have back neck problems or have other preventative medical conditions

You need to be reasonably fit to do the abseil. If you are in any doubt about your fitness please consult a doctor, especially if you are overweight or have epilepsy, cardiovascular or respiratory disorders.
Who you will help
Your fundraising will support Make Some Noise helping specially selected projects across the UK and here in the West Country, delivering life-changing work to youngsters and their families living with illness, disability or lack of opportunity this year we are supporting amounst others, 'Young Bristol' and 'Young Gloucestershire' both supporting disadvantaged youngsters; and in Wiltshire, 'STEP' helping those with severe vulnerabilities.
Frequently Asked Questions
Fundraising
Q: My fundraising is going well, but I'm still off my target, can I still attend? 
A: We are really grateful that you are supporting Make Some Noise and your £165 pledge (or more in some cases) will go a long way. As long as you have made a start towards your goal we would very happy for you to take part. We understand many supporters what donate after the event. 

Directions and Parking
Q: What are the directions to Uphill Wharf, Uphill, Weston- Super-Mare, BS23 4XR 
A: From the M5 exit at junction 21, follow signs to Weston- Super-Mare then signs to Weston General Hospital, the village of Uphill just down the road here. Passing the hospital on your right continue to the village of Uphill just beyond. Take second exit at the roundabout then left into Uphill Way traveling 0.4 mile past the Ship Inn.  The quarry and carpark are located on the left at the bend in the road by the boat yards. (Signed Uphill Boat Centre/Environment Agency) For a map click,  https://tinyurl.com/DirectionsSevern
Q: Is there parking? 
A. Park in the gravel car park on the left just past the entrance gates directly next to the quarry and behind the buildings and cafe. Alternatively, it is possible to park in many of the surrounding streets a short walk away. 
Abseil and check in
Q: What are the event timings? 
A: You will need to arrive no later than 15 minutes before your group time shown on your ticket, please allow plenty of time to travel to Uphill and park.  Prior to your abseil you will need to clear your medical consent, get kitted up and receive your safety briefing. The walk to the top the quarry only takes a few minutes.  The abseil itself takes on average 10 - 15 minutes per person, through this can vary greatly between participants. The real pros could take 45 seconds! On the day, we will look at running two abseil lines a higher and lower abseil, this is so that participants can choose their descent down. Plans may need to be revised on the day depending on the weather conditions.

Q: What should I wear? 
A: It is best to be prepared for chilly and windy conditions and be appropriately dressed for an abseiling activity.  It is advised that you wear comfortable (but not baggy) warm clothing, casual clothes, sports clothes, trainers/walking boots, warm jacket and waterproofs if it's wet. All other equipment will be provided including gloves for those that want them.  It is essential that you wear appropriate footwear such as trainers or boots, no heels.     

Q: Will the weather affect the day? 
A: The abseil can go ahead safely in most wet or windy conditions, but the type of descent may vary. We can still continue even in high winds as once participants have stepped over the edge and are established on the cliff face the effect of the wind is very much reduced and hardly noticeable even if it's blowing a gale on top. Should the event need to be cancelled we will inform you by email, we advise that you check before you traveling to Uphill.

Q: Can friends or family come along and support? 
A: Yes absolutely, we would love for you to bring support along (they can also take some good pictures for you.) Although due to safety, visitors will not be allowed to ascend the quarry. Viewing must be from the base of the cliff face.

Your Safety
Q: Who will be operating the abseil? 
A: Make Some Noise are working with Adventurous Activity Company and a team highly experienced and qualified instructors with over 20 years of experience encouraging even the most nervous abseilers over the edge.   
Adventurous Activity Company Ltd, 18 Heath Ridge, Long Ashton, Bristol BS41 9EW.  Tel: 01275 394558
Adventurous Activity Company hold current Public Liability for each and every occurrence £10,000,000
Other
Q: Is there catering onsite? 
A: There is no organised catering as part of this event but Uphill Wharf Cafe-Bar and Ice Cream kiosk is located at the bottom of the quarry or you can bring a picnic.  The quarry has a large grassy area directly at the base of the cliffs.

Q: Are there toilets onsite? 
A: There are toilets in the Uphill Wharf Cafe-Bar for paying customers in addition to North Somerset council public toilets (currently a 20p charge) located a hundred meters away from the site. 
When & Where

Uphill Wharf

BS23 4XR Weston-super-Mare
United Kingdom


Saturday, 29 September 2018 from 08:00 to 18:00 (BST)
Add to my calendar
Organiser
Global's Make Some Noise is the official in-house charity of Global, the media and entertainment group. We support small but brilliant charities helping disadvantaged children and young people across the UK.
These charities struggle to get heard, so we unite some of the best- loved radio stations in the UK - Heart, Capital, Capital XTRA, Classic FM, Smooth, LBC, Radio X and Gold - to give them a voice and raise money to support their incredible work.
These projects are a vital lifeline for thousands of youngsters and their families living with illness, disability or lack of opportunity. They provide life-changing support such as speech therapy for children recovering from brain tumours, confidence-building workshops for teenagers with cancer and help and guidance to bereaved children who have lost someone special. Without projects like these, families wouldn't be able to access this life-changing support locally, if at all.
Global's Make Some Noise is an appeal operated by Global Charities, a registered charity in England & Wales (1091657) and Scotland (SC041475).