Description
We invite you to MAKE STUFF: A FREE and family friendly coding, making and tech event for all ages at Leigh Hack Space on Saturday 17th September, 10am - 4.30pm.

Drop by and learn how to solder with our Build a Badge workshop, create your own projects and code with CodeBugs see our 3D Printer in action. Discover PatternCraft - a hands- on Minecraft making challenge, and design your own games character at out Game Craft arts table.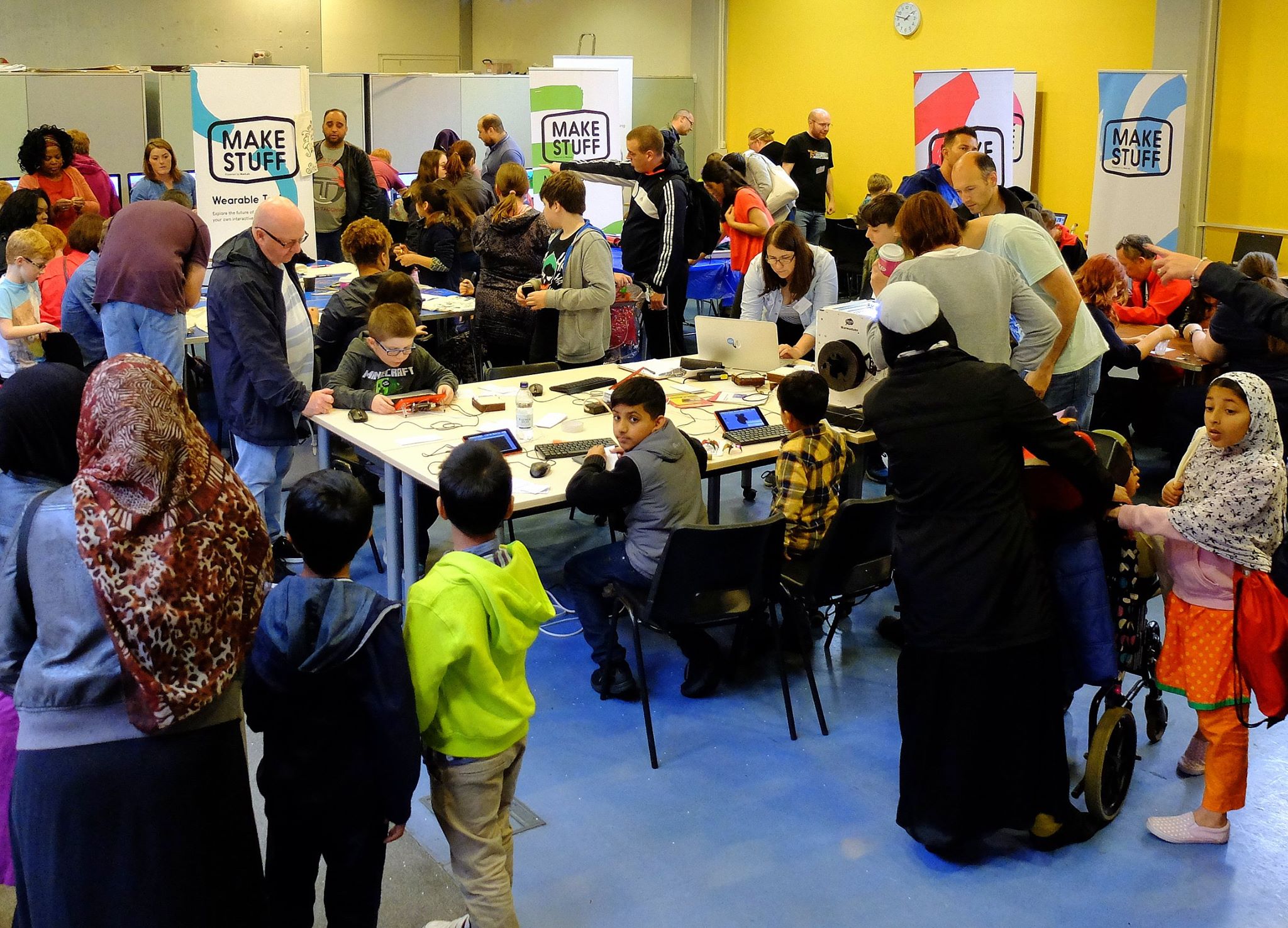 ---
The day will include:
Awkward Arcade - Come and play in our experimental video arcade, a collection of fun and unusual games for adults and kids alike.
Patterncraft - Drop in Programming - using mallets! Get hands-on and create your own art within Minecraft
Build a Bug - Come and make your very own bug! Construct it from laser cut wood and LED flashing eyes
Build a Badge - Learn how to solder, and make a circuit with flashing lights with our drop-in build a badge workshop.
3D Printer Demo - You've heard all about them, now come and see one in action! Our 3D printer will be running all day, come watch and you can take home your own 3D printed mini mascot
Wearable Tech - Explore the future of fashion and technology and design your own tech tote bag
Game Craft - Get game crafty on our kids art table, and construct your own game characters!
Laser Harp - Come and play on the Laser Harp! An experimental musical instrument made using an Arduino
Arduino Traffic Lights - Learn to code and make your own interactive projects using an Arduino
Code Bugs - Learn how to code and create with a CodeBug! A cute, programmable and wearable bug like device
Raspberry Jam - Bring in your own Raspberry Pi, share cool ideas and meet other Pi enthusiasts at this mini meet-up
Dark Room - Learn how to mix digital with analogue technology in our fun photography workshop. All materials supplied
Leigh Hack Space Projects - Explore a variety of cool projects made by the members of the hackspace!
---
The Leigh Hack Space shop will be open all day selling tech goodies
To attend, register for free on Eventbrite: http://makestuff-leigh.eventbrite.co.uk
Keep up to date with announcements, sign up to volunteer, or learn more about MAKE STUFF events here: http://makestuff.madlab.org.uk/

Come explore!