Description
MAKERSPACE EVENT April 21-23, 2020
Very limited places available on a first-come basis ONLY for those running Makerspaces in the UK.
A Makerspace in the context of this workshop is an open-access organisation offering ceramic facilities, equipment and materials – sometimes for a monthly subscription fee, or funded on a not-for-profit basis. This event is open to decision-makers, technicians and tutors rather than members. If you are not sure if you meet these criteria, please don't hesitate to contact us.
Read on for more information.
Days 1 & 2: Mayco Workshops 9:30-16:30
Tuesday 21 & Wednesday 22 April
One place free per day per Makerspace (subject to availability)
Further team members @ £75 pp per day (subject to availability)
Limited to 3 places per Makerspace to give everyone a fair chance to book, but depending on booking numbers as the date approaches, we may be able to review this.
Fee includes all materials* buffet lunch and all-day refreshments (please notify food allergies by 14 April).
Standard booking terms apply - see our website.
When we receive your booking, we may ask you to provide evidence that you run a Makerspace.
IMPORTANT: If you are booking free places PLEASE let us know straight away if you later find you cannot attend, so we can offer the place to others!
*Please bring an apron, notepad and pen. Stoneware bisque is provided, but you are more than welcome to bring your own pieces to glaze instead.
Day 3: Thursday 23 April 10:00-15:00
On Thursday, from 10am until 3pm we'll be hosting factory tours and kiln clinics, and you'll have the chance to chat and share ideas with other Makerspaces. A buffet lunch will be laid on for you.
Free of charge!
An opportunity to network with other Makerspaces
Tours around our clay production areas, giving you a unique insight into how we manufacture our clay bodies.
Kiln clinics - bring your questions*
Buffet lunch and all day refreshments provided
*Please make a note of the kiln and controller make/model and if possible take a quick photo of the kiln data plate in order for us to be able to answer specific questions.
Workshop information:
Two days of inspirational mid-high fire hands-on glazing workshops with Todd Hickerson of Mayco, covering a variety of stoneware glaze combinations that fire beautifully at mid to high fire temperatures.
Five projects will be covered on each day (Tuesday & Wednesday) and you can book either or both days.
Each day will contain a project showing how Mudcrack or Magma glazes can incorporate texture into your stoneware palette. Each day will also include a silk-screening project, to add details in a snap. Glaze layering and using Mayco Washes will also be covered. Take your completed projects home to fire at the end of the workshop.
We are excited to welcome Mayco's artist-designer Todd Hickerson to Potclays again this April to share his experiences and techniques, including glaze combinations, safe glaze layering, specialty texture glazes and fluxes, and silkscreens. Todd has a BFA degree in Ceramics, taught elementary school art, managed a ceramics studio and gallery, and spent 15 years in the military prior to joining Mayco. He has been mid-high fire technical support, designer, and an instructor for Mayco since 2015.
Mayco has generously subsidised the workshops, allowing us to offer one place for each Makerspace free of charge, with subsequent places available at £75 per person including buffet lunch and all-day refreshments. Booking is essential.
Tuesday Projects:
Sand and Sea Plate

Mudcrack and Marbling Dish

Fern and Flower Silkscreen

Charming Plate

Galaxy Tumbler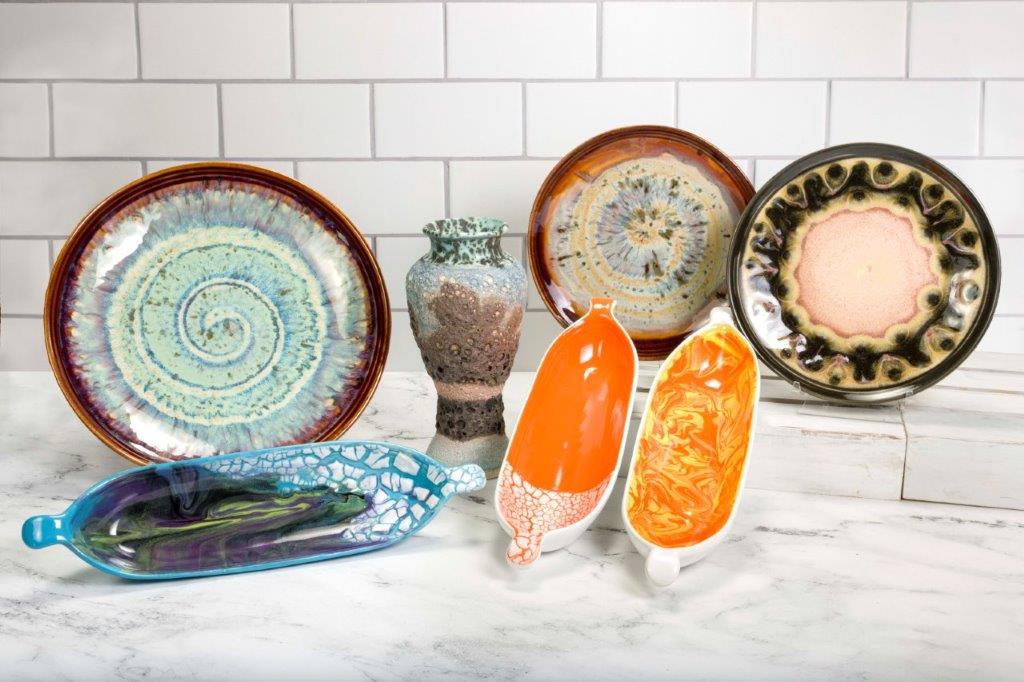 Wednesday Projects:
Kaboom Silkscreen Plate

Gloss Sgraffito Plate

Green Tea Flux Mug

Magma Vase

Galaxy Tumbler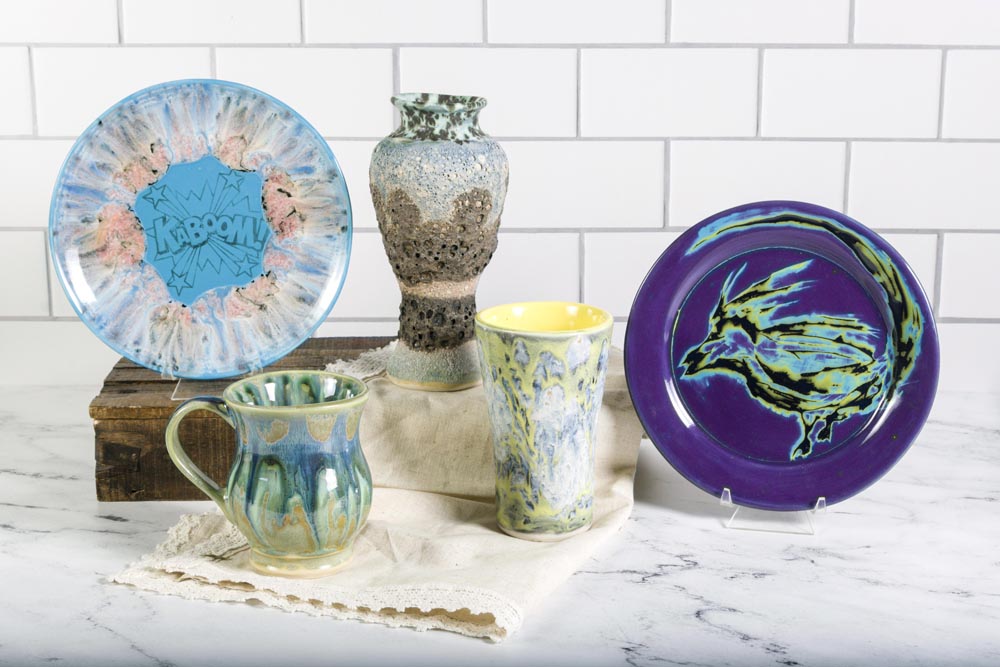 Project detail/order may be subject to change.
IMPORTANT INFORMATION
Feel free to place an order in advance or on the day at special Makerspace discounts and collect to save on delivery costs.
Please look out for an email in the week prior to the course - it will contain important information so please ensure sales@potclays.co.uk is added to your email 'safe list'.
Photography and filming takes place at all Potclays events. Material may be used publicly on social media and in Potclays marketing activity. If you have any concerns, please speak to a member of staff.
Full information about our courses including booking and cancellation terms can be found at this link.
FINDING US
For GPS directions to our front entrance please use postcode ST4 6JW (enter no. 447 if prompted by your device). 6ft10" height restriction at front entrance. Please contact us to make special access arrangements if your vehicle is over this height.
WHERE TO STAY & THINGS TO DO
Please take a look at the Visit Stoke website or contact us for advice.
DISABILITY PROVISIONS
We will always make every effort to accommodate those with physical disabilities. Our factory is a very old and rambling building (it was a Victorian teapot factory in a former life) and access to our classroom, WC's and upper showroom is only made possible through the use of temporary ramps. Please speak to us before booking a course place or visiting us so we can discuss how to best meet your needs.