A quick and easy makeup audit will be the best way for you to feel clear and refreshed with the makeup you have!
About this event
Over time, your makeup collection grows without you even realising "I'll just buy this lipstick, it's a treat for myself"... And next thing you know, you have 3 lipsticks that are the exact same colour!
That's why having a complete de-clutter is so powerful for creating a clear and inspired headspace! Having only the makeup you need makes applying your makeup faster and a lot better.
You may be wondering why you would want to remove some of your makeup from your collection because "I can just keep my makeup for years, right?" Wrong, unfortunately keeping certain types of makeup for too long, means it will NOT work as well as it did when you first bought it.
You don't want to use anything that isn't the best, right?
Together, I am going to help you deal with the feelings of being overwhelmed, confused and lacking in confidence in the makeup world.
I and many other women just like you have felt this way too and it's NOT your fault!
There is sooooo much information out there that you are left more confused than ever before. The good news is it gets MUCH BETTER!
What you will get from our session:
We will review your entire makeup bag/collection to see what you have.
We will sift through the collection and throw out any of the expired makeup you have that will no longer be useful to you.
We will move on to matching your makeup with your skin type/tones so you can maximise your looks like a professional makeup artist!
In some cases you might have some extra makeup so what you can do is either re-purpose it, donate or sell it. Donating and selling your makeup is a great way to let someone else enjoy them!
Maybe you are missing a particular product? Well if that's the case, I will be sharing with you some of my SECRET product recommendations to make sure you look nothing but fabulous!
Finally, you will have the steps that you can apply as soon as the call ends!
After our call you will leave with a crystal clear mind and begin to feel the confidence coming back to life. You will be left feeling inspirational and remember why you fell in love with the process in the first place!
What you NEED to do before the session:
First you need to gather your entire makeup collection and lay it out on a table or on the floor.
Next you will need to categorise the makeup into Powders, Foundations, Concealer etc…
Make sure you have all of your makeup brushes and sponges out too. Categorise these just like with the makeup to make the process super easy.
Bring a list of ANY questions you may have, there is no such thing as dumb questions!
The session will take place on Zoom and a link will be sent to you in your email confirmation once booked.
*There are LIMITED SPACES so get your spot reserved!*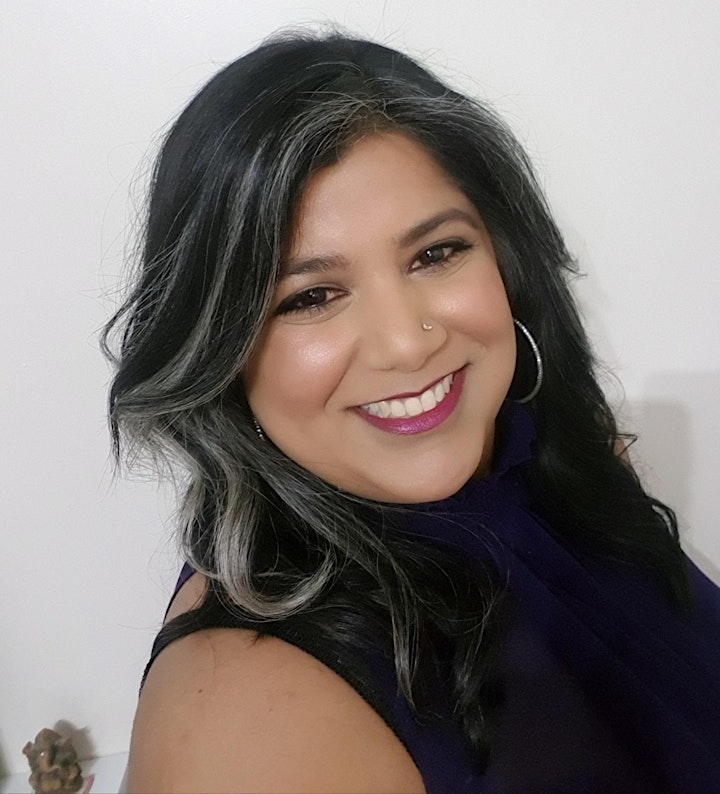 About your host
Hi, Priya here!
I am a makeup artist based in Leicester and I love all things makeup and skincare!
I have spent the last few years really growing my love for makeup/skincare and invested in learning this professionally to build on my knowledge and improve my techniques..
But I wasn't always an expert…
When I first got started, I knew nothing about makeup and had ZERO confidence to even try until I grew brave enough to just jump right in and have FUN with it!
I loved learning how to apply makeup on myself and others using unheard of and easy techniques. This eventually turned into a passion of mine!
Now I am super passionate about sharing my knowledge and expertise that I have gained over the last few years. I want to show you all that even if you don't feel like you can achieve makeup as good as someone else, it doesn't mean you will never get there.
I love to show women that makeup is super personal to you, your style, your features and your own personal taste. Your makeup should make you feel like your own individual, glamorous and beautiful self!
My mission is to educate, inspire, empower and support women to realise that they have already got their makeup skills within them… they just need to unlock their full potential!
So let's unlock YOUR potential!
Make sure you reserve your seat now before it's too late.
Once the seats are booked, they're gone for good!