Making a difference. Women artists as printmakers by Gill Saunders, Senior Curator (Prints), Victoria & Albert Museum

Saturday, 17 May 2014 from 10:30 to 12:00 (BST)
Event Details
This talk given by Gill Saunders, Senior Curator (Prints), Victoria & Albert Museum, will discuss the role of women in printmaking over the centuries, and highlight the achievements of many celebrated artists.
It is part of a series of FREE lectures that is open to the public during the course of Underexposed: Female Artists and the Medium of Print exhibition, which runs from 16 May to 19 June 2014.
The exhibition opens:
Monday, Tuesday, Wednesday and Friday (except 23 May), 9am to 5pm
Thursday, 9am to 8pm
Saturday, 10am to 5pm
FREE admission, disabled access.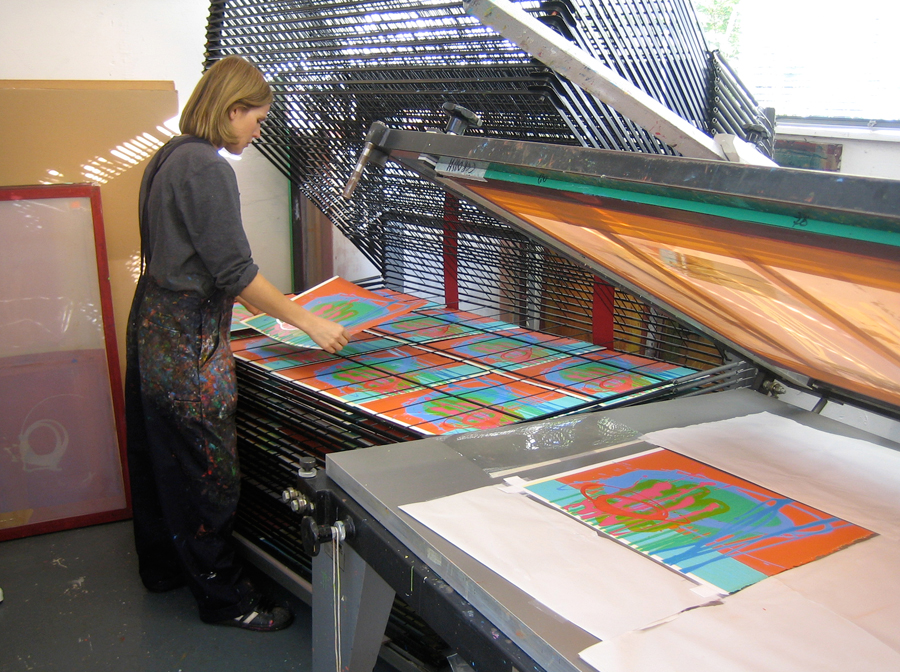 Underexposed will survey the ways in which prominent female artists have used the medium of print over the last two centuries (and beyond). It will feature painters and sculptors, and highlight how print relates to their primary focus. It will also look at those who are or have been printmakers first and foremost, and why they have chosen to work in that particular artistic medium. At the same time, the exhibition will examine the different types of prints, as well as the different subject matter chosen by the various female artists represented.
The exhibition concept has received a lot of support from professional curators in both national and local institutions and in higher education. We feel it is an opportunity to educate both the art-going public and students on the importance of the print medium in western art history, and to celebrate the artistic achievements of female artists overall.
Artists include: Alison Wilding RA, Alyson Hunter, Ana Maria Pacheco, Anita Klein PPRE Hon RWS, Anne Desmet RA, Anya Gallacio, Barbara Hepworth DBE, Berthe Morisot, Beryl Cook OBE, Bridget Riley CH CBE, Charlotte Cornish, Charlotte Hodes, Cornelia Parker OBE RA, Dawn Cole, Diana Ghisi, Dorothea Tanning, Eileen Cooper RA, Eileen Lawrence, Elisabeth Frink DBE RA, Elizabeth Magill, Ethel Spowers, Gillian Carnegie, Gwen Raverat, Joan Mitchell, Leonora Carrington OBE, Liliane Lijn, Lill Tschudi, Louise Bourgeois, Lucy Farley, Mary Cassatt, Paula Rego DBE, Prunella Clough, Rose Hilton, Sandra Blow RA, Sarah Hardacre, Sarah Lucas, Sonia Delaunay, Susie Hamilton, Tess Jaray RA, Thérèse Oulton, Tracey Emin CBE RA and Valerie Thornton.
Gill Saunders, Senior Curator (Prints), Victoria & Albert Museum:
"Many of the terms which have traditionally been associated with prints – small-scale, modest, private, intimate, personal – have been applied to the work of women artists too. This exhibition sets out to challenge the often dismissive and derogatory implications of such terms by bringing together a diverse mix of works which demonstrate the originality, innovation, skill and ambition to be found in the printed work of female painters, sculptors and printmakers from the 19th century to the present day."
When & Where

Underexposed exhibition
Studio 3 Gallery
School of Arts, University of Kent
CT2 7UG Canterbury
United Kingdom


Saturday, 17 May 2014 from 10:30 to 12:00 (BST)
Add to my calendar
Organiser
Frances and Lynne are both mature Art History students at the University of Kent, who are co-curating this exciting exhibition. Their aim is to celebrate female artists' achievements and raise the awareness of the subject of the fine art print.