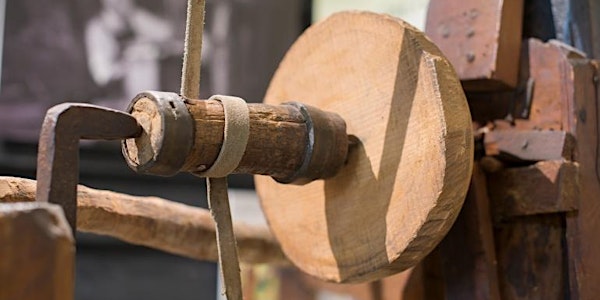 Making and the Creative Economy: The MERL Annual Lecture
Sales Have Ended
Registrations are closed
Thank you for booking onto 'Making and the Creative Economy: The MERL Annual Lecture' in partnership with the Heritage Crafts Association, the Art Workers Guild, and the Crafts Council. We are pleased to confirm your place(s) at this event. Monday 6 November, 7.15pm | Doors open from 6.45 pm The Great Hall, London Road Campus, University of Reading Please bring this confirmation with you to the event (either as a print out or on smartphone / tablet) Travel and parking information For more details about the event, including travel and transport information please visit http://www.reading.ac.uk/about/visit-us.aspx An online map of the London Road campus is available on this webpage. The Great Hall is marked as building number 45. Please use White Gates car park, situated off Crown Place (see map) Refreshments Complimentary tea and coffee will be available at the Great Hall prior to the event. The nearest bar is located on campus (building number 14, see map). If you have any further queries, please don't hesitate to get in touch: merlevents@reading.ac.uk or call 0118 378 8660. We look forward to welcoming you. Best wishes, The Museum of English Rural Life University of Reading t: +44 (0) 118 378 8660 www.reading.ac.uk/TheMERL
Event Information
Location
The Great Hall
University of Reading
London Road
Reading
RG1 5AQ
United Kingdom
Sales Have Ended
Registrations are closed
Thank you for booking onto 'Making and the Creative Economy: The MERL Annual Lecture' in partnership with the Heritage Crafts Association, the Art Workers Guild, and the Crafts Council. We are pleased to confirm your place(s) at this event. Monday 6 November, 7.15pm | Doors open from 6.45 pm The Great Hall, London Road Campus, University of Reading Please bring this confirmation with you to the event (either as a print out or on smartphone / tablet) Travel and parking information For more details about the event, including travel and transport information please visit http://www.reading.ac.uk/about/visit-us.aspx An online map of the London Road campus is available on this webpage. The Great Hall is marked as building number 45. Please use White Gates car park, situated off Crown Place (see map) Refreshments Complimentary tea and coffee will be available at the Great Hall prior to the event. The nearest bar is located on campus (building number 14, see map). If you have any further queries, please don't hesitate to get in touch: merlevents@reading.ac.uk or call 0118 378 8660. We look forward to welcoming you. Best wishes, The Museum of English Rural Life University of Reading t: +44 (0) 118 378 8660 www.reading.ac.uk/TheMERL
Description
Convened in partnership with the Heritage Crafts Association, the Art Workers Guild, and the Crafts Council.
Doors open at 6.45pm, event begins at 7.15pm.
This panel debate at the Museum of English Rural Life will bring together influential thinkers connected to "craft and making" to explore pressing issues facing the creative economy. The panel will include:
Dr Nicola Thomas: Associate Professor in Cultural Historical Geography, University of Exeter.

Charlie Gladstone: Author and Co-Founder of 'The Good Life' festival.

Professor Roger Kneebone: Professor of Surgical Education and Engagement Science, Imperial College London.

Dr Alex Langlands: Broadcaster, Author, and Lecturer in Archaeology and History, Swansea University.

Clary Salandy: Costume Designer and Founder of Mahogany Carnival Design
Additional Information:
We are currently experiencing a diminishing emphasis on technical skills and apprenticeships in formal and informal learning contexts at the same time as a growing recognition of the role that craft and creativity play in improving health and wellbeing. Relevant debates within the policy arena include the part that cultural institutions should play in fostering and facilitating creative practice, the implications of the ongoing rhetoric of salvage and extinction for craft and creativity today, and political barriers to the 2003 UNESCO convention on intangible cultural heritage. Our aim is to break down the divisions – intellectual, social, financial and cultural – that separate contemporary crafts from heritage crafts and separate amateur makers from professional makers. In this way we hope to celebrate the vibrancy and potential of the modern creative economy and set a new collaborative and participatory agenda in motion.
Date and time
Location
The Great Hall
University of Reading
London Road
Reading
RG1 5AQ
United Kingdom