Making Connections through Learning for Sustainability CLPL starting Sept...
Event Information
Location
ONLINE COURSE
University of Edinburgh
Holyrood Road
EH8 8AQ
United Kingdom
Description
MAKING CONNECTIONS THROUGH LEARNING FOR SUSTAINABILITY
Facilitated online Professional Learning for educators, starting 11th September 2020
Click on Register to reserve your place here on Eventbrite
---
Why participate?
COVID-19 has had an unprecedented impact on everyday life across the globe. Understanding the big issues that shape our world has never been more important. Issues like climate change, gender equality and how to live sustainably affect – and connect – us all: wherever we are in the world.
Aligned with Scotland's education priorities and the UN Sustainable Development Goals, this fully online professional learning will support you to think about, plan for, and implement, Learning for Sustainability in your own practice and in your teaching context. You will make connections at individual, institutional and global levels, inspiring you and your students to develop the confidence, skills, knowledge, values and attitudes we all need to thrive and create positive change in our increasingly interconnected world.
Engagement in this fully funded course will:
Support you to create an enabling environment for Learning for Sustainability in your teaching and setting, and significantly enhance young people's educational experience

Inform your own professional development and GTCS professional update


Enhance your participation in the Connecting Classrooms through Global Learning programme, supporting whole setting and cluster approaches to Learning for Sustainability

Give access to an international network of like-minded teachers
This professional learning has been created by the University of Edinburgh and Learning for Sustainability Scotland, for the British Council/ Department for International Development Connecting Classrooms programme. The programme is accredited by GTCS and your engagement could lead to GTCS Professional Recognition.
Who can participate?
This course is fully funded for all 3-18 years teachers in state funded schools, colleges and early learning and childcare centres in Scotland. You will be supported by skilled facilitators with a background in Learning for Sustainability and online learning and do not need any advanced technical expertise to take part.
What will be involved?
The programme involves participation in online discussions and activities in five course modules. Modules will be released fortnightly, starting on 11th September 2020.
The themes and dates are outlined below: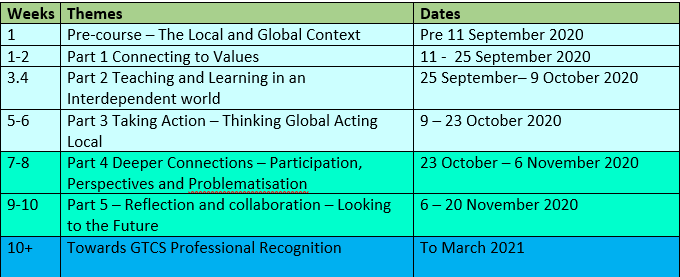 What will be asked of you?
The course involves participation in online discussions and activities at a time that is convenient for you, day or night! We will ask you to try out some face to face and online activities and ideas with your learners, where possible, and to share your past and present experiences with others throughout the course. To complete the course you will be asked to share reflections. If opting to continue beyond the 10 weeks, working towards GTCS Professional Recognition, you will be asked to submit a portfolio of learning.
Programme Learning Outcomes
While participating in this course you will:
In the context of Learning for Sustainability and the UN Sustainable Development Goals, reflect on how to develop the skills and values required of teachers and learners to live in an interdependent world

Critically consider practical approaches to learning and teaching for Learning for Sustainability

Reflect on the impact of approaches to Learning for Sustainability at an individual, whole school and global level

Develop confidence in your teacher leadership for Learning for Sustainability and engage in peer learning opportunities through an established practitioner network
---
Click on Register to reserve your place here on Eventbrite .
For further information please contact Betsy King, Development Manager, Learning for Sustainability Scotland, Betsyking@lfsscotland.org
---
DATA PROTECTION
You can find information about the LfS Scotland Data Privacy Policy here.
We are collecting your personal information on behalf of the British Council to arrange training and to provide you with mentoring and support for the duration of training courses. Y
our information will also be ahared with Ecorys UK, a third party research consultancy commissioned by the British Council to compile reports on the impact of Connecting Classrooms through Global Learning (CCGL) training on teaching practice.
The legal basis for collecting your personal information is agreement with the Terms and Conditions of the CCGL programme (contract).
You will be asked to complete surveys which are used to monitor and evaluate the quality of training and its impact on teaching practice. The British Council will do this in its legitimate interest.The British Council would like to send you updates about other opportunities available through the CCGL programme and we will ask if you would like to receive updates about other opportunities available through the CCGL programme.You may opt out at any time by contacting the British Council at Schools@britishcouncil.org. We will process your personal information based on your consent.
Data Protection - British Council
The British Council complies with data protection law in the UK and laws in other countries that meet internationally accepted standards. You have the right to ask for a copy of the information we hold on you, and the right to ask us to correct any inaccuracies in that information. If you have concerns about how we have used your personal information, you also have the right to complain to a privacy regulator. For detailed information, please refer to the privacy section of our website, www.britishcouncil.org/privacy or contact your local British Council office. We will keep your information for a period of 7 years from date of your last activity in the CCGL programme.
---
Date and Time
Location
ONLINE COURSE
University of Edinburgh
Holyrood Road
EH8 8AQ
United Kingdom