Description
The word 'content' has become meaningless in the marketing world, it's thrown around a lot without a lot of thought behind what it actually means. How do you use content in its myriad forms to really connect and engage your audience?
Using examples from The Royal Navy careers and recruitment campaign we take a look how to create a seamless customer journey that conveys complex information while keeping your user engaged and entertained.

This session will also contain a keynote by Kate Fitzpatrick, Senior Strategist at e3, on millennial customer behaviour and creating a content framework that works collaboratively across siloed teams citing our work with Arthritis Research UK.
This forms the third in e3's Experience Series, three events looking at the customer experience with Artificial Experience and Secure Experience events preceding this one.
---
About Us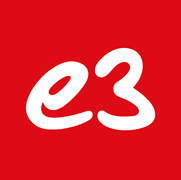 e3 is one of the UK's most awarded independent digital marketing agencies.
We provide creative solutions to real-world business problems and combine our deep understanding of digital audiences with creative, technical and strategic vision to solve problems that exist within – and beyond – marketing We work with national and globally recognised brands including Yodel, Royal Navy, Orange and the National Trust.
Working from London and Bristol, e3 has grown into an agency of more than 65 digital specialists over the last 19 years and consistently features in the NMA / Econsultancy Digital Top 100.


---
Our Sponsors

Sitecore is the global leader in customer experience software that enables context marketing. The Sitecore® Experience Platform™ manages content, supplies contextual intelligence, and automates communications at scale so marketers can deliver personalized experiences that delight audiences, build loyalty, and drive revenue.

Rackspace Digital gives you the performance, expertise and reliability you need to power your digital strategy. By working hand- in- hand with leading software platforms, we help customers find expert advice and technology infrastructure to ensure a rock solid foundation. Our specialists focus exclusively on ensuring your online environment is always up and running with outstanding performance, allowing you to execute fully connected digital experiences that put your customers at the heart of every interaction.
---

Spaces are limited. Register now to avoid disappointment. This is a senior brand-only invitation event.
Suppliers and agencies need not apply. If you have any questions about the event or e3 please email emily@e3.co.uk.