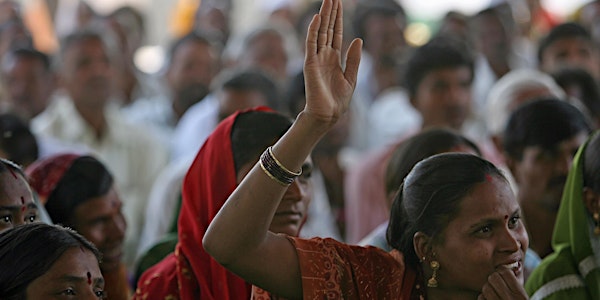 Making finance flow for locally-led action in the Decade of Action
Sales Have Ended
Registrations are closed
This event is now sold out. If you are interested please join the wait list or contact juliette.tunstall@iied.org for more information.
Stockholm+50 report launch on finance supporting locally-led action for people, nature and climate
About this event
Climate change, the loss of nature and persistent poverty are complex problems threatening our societies, economies and ecosystems.
Addressing these interconnected crises over the Decade of Action will be a central part of discussions at Stockholm+50, as countries and leaders across the world regroup to reflect on the 50-year sustainable development journey and turn their minds to what more is needed.
Ensuring Indigenous Peoples and local communities (IPLCs) can influence decision-making, have agency over environment and development actions, and control over finances and resources is critical. Yet much of the control of finance and decision-making is still held at the national and global level, often leaving IPLCs as beneficiaries of activities rather than active agents of change.
Stockholm+50 presents an opportunity to design a future where locally-led action sits alongside a series of structural adjustments to deliver a more accessible, equitable and effective finance system.
This online event co-hosted by IIED and Sida will launch a new report for Stockholm+50 that explores the role of locally-led action for people, nature and climate, and proposes recommendations for governments, multilateral development banks and global funds to drive change through support for local level decision-making over resources and finance.
Speakers from the global South, research institutes and the finance sector will share their lived experience, present research, identify the challenges and build momentum for the uptake of critical solutions.
Importantly, this event will shine a light on how Stockholm+50 can drive forward the transformation needed at all levels to enhance support for just, equitable and locally-led solutions through the decade ahead.
About the speakers
Ma Estrella "Esther" Penunia is secretary general for the Asian Farmers' Association for Sustainable Rural Development (AFA)
Simangele Msweli is the senior manager of the Youth Leadership Program at the Africa Wildlife Foundation.
Terence Hay-Edie is the programme advisor (biodiversity) for the Small Grants Programme, Global Environment Facility.
Dora N. Cudjoe is a senior operations officer and program coordinator, stakeholder engagement, Climate Investment Funds
Omer van Renterghem is a senior policy advisor for water and environment in the Inclusive Green Growth Department (IGG) at the Ministry of Foreign Affairs of the Netherlands
Ebony Holland (co-moderator) is a senior researcher and nature-climate policy lead for the Natural Resources and Climate Change research groups at IIED.
Ulrika Åkesson is the lead policy specialist for environment and climate change at Sida.
About IIED Debates
This event is part of the IIED Debates series. Through the convening of expert speakers and external stakeholders, IIED brings together an international community to discuss critical issues.
IIED Debates encompass both physical and digital events, including critical themes, breakfast debriefs and webinars. These events are public and are hosted regularly throughout the year online and when possible in our London and Edinburgh offices.
About attending
Webinars are online workshops that people can attend via the internet from their desk or portable internet device.
This webinar will use the Zoom video conferencing platform. For those who have not attended a Zoom webinar before, please read this guide to participation as an attendee.
The event will be recorded to be distributed publicly afterwards. By registering for this event, you agree to give your consent for this.
The information you provide will be held on our database to process your booking. We do not share data with any third parties. We may contact you in the future about other IIED events. Please let us know if you do not want to receive any further information from us.
Image: A woman raises her hand to speak at a community meeting in Aurangabad, India. Credit: Simone D. McCourtie/World Bank via Flickr, CC BY-NC-ND 2.0