Event Information
Location
St Ethelburga's Centre for Reconciliation and Peace
78 Bishopsgate
London
EC2N 4AG
United Kingdom
Refund policy
Refunds up to 7 days before event
Description
*£20 deposit will be refunded upon attendance*
Digital subscriptions have grown strongly to date—they will continue to do so for some time, but ad-supported strategies are still going to play a key role in the digital economy. Striking the right balance between free and paid will become even more crucial.
We've put together a seminar with the aim to give music and video businesses a deeper understanding of the market's direction, helping you to define your organisation's approach and role in the streaming world.

The programme will focus on the value free streaming music and video tiers deliver to consumers and the impact they have directly and indirectly on the revenue generating potential of premium subscription tiers.
Join us for this free seminar with exclusive, previously unseen MIDiA data presented by our Research Director Tim Mulligan and a panel of industry experts to tackle the burning questions. This event will help you understand:
• What is the right balance to strike between free and paid?
• How will this balance vary across different regions across the globe?
• How many more consumers will make the path from free to paid?
• Why are streaming audiences so interesting to advertisers and how can they reach them?
• What impact will the tech majors' domination of global ad revenues have on streaming services?
Speakers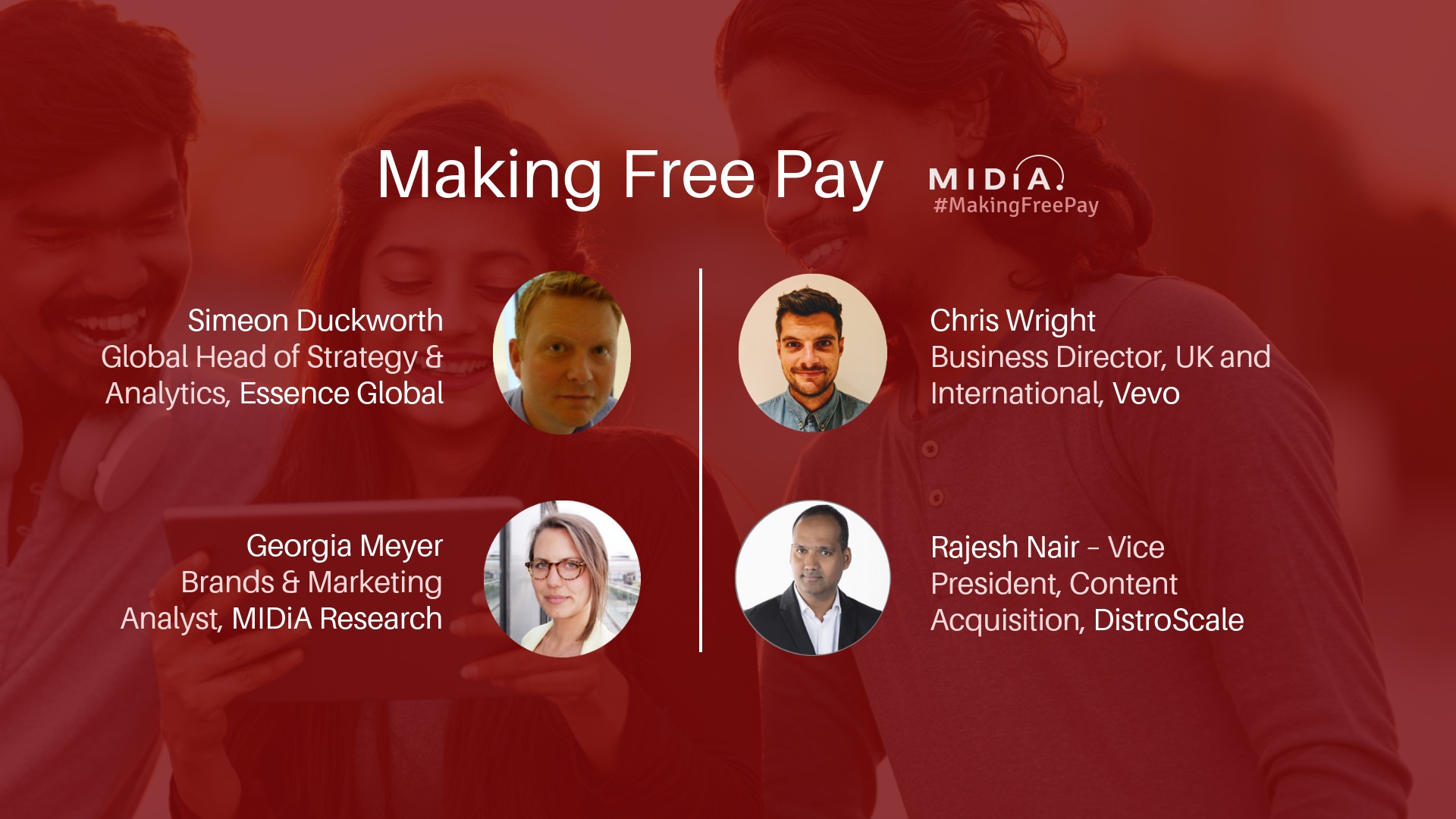 Find our more about our speakers here.
Programme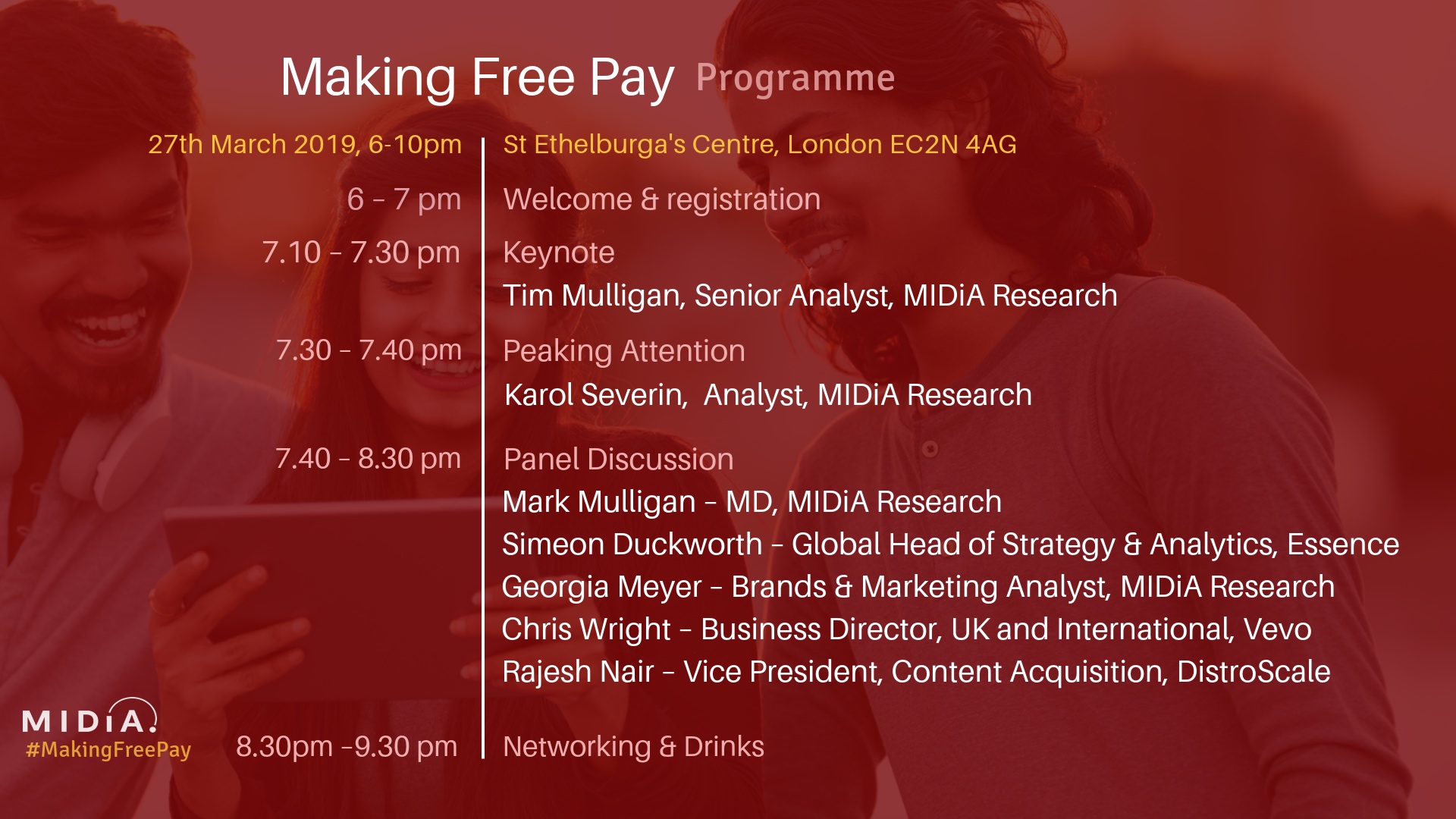 Who should attend?
Record labels, TV networks, music publishers and production companies: To better understand how evolving advertising trends are affecting content consumption and opportunities for monetisation.
Video and music streaming services: To identify what opportunities lie ahead to capitalise on freemium, ad-supported tiers in order to grow their subscriber base in markets reaching saturation and lower ARPU markets;
Agencies: marketing, ad networks, advertisers: Learn about how audiences are interacting with ads. What age are they? Which platforms do they use? How long do they spend engaging? These are all questions that will be addressed;
Content producers in music and video: To understand emerging consumption behaviours, the effect on advertising formats and the impact all this will have on the content production process from a monetisation perspective;
Investors & trade associations: To help build a picture of the future trajectory of the digital content economy, informing where potential investment opportunities may lie.
**Please note: We are charging a £20 deposit which will be refunded if you attend and are registered at the event. This is to ensure that those who want to attend the event are able to come.
Please enter the name of each attendee per ticket requested to ensure they are registered on the night.
#Musicevent #Londonevent #TVevent #Videevent #Advertising #Streaming #Subscriptions
Date and time
Location
St Ethelburga's Centre for Reconciliation and Peace
78 Bishopsgate
London
EC2N 4AG
United Kingdom
Refund policy
Refunds up to 7 days before event