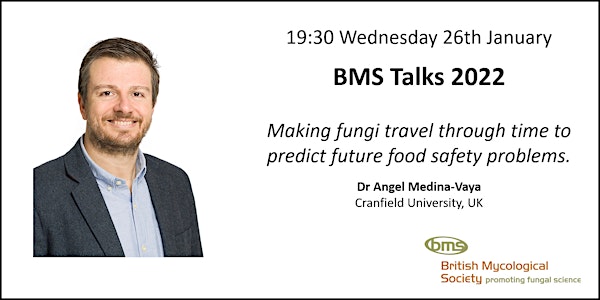 Making fungi travel through time to predict future food safety problems
A review of current research into the impact of environmental fluctuations on fungal pathogen growth and mycotoxin production.
About this event
In this talk, Dr Medina will review the research of the Cranfield Applied Mycology Group - in collaboration with colleagues around the world - to figure out how environmental fluctuations are affecting the growth of some fungal pathogens and, most importantly, how they affect the ability of crop pathogens to produce mycotoxins. These naturally produced toxic compounds can cause death and disease in humans and other animals and hence are of significant concern in food safety worldwide.
With climate change bringing increasing environmental fluctuations, what could be the impact on food safety in, say, 50 years' time? This is a vital question; join this talk to find out what has been discovered so far…
Dr Angel Medina-Vaya
Angel Medina-Vaya is a Reader in Food Mycology, Head of the Applied Mycology Group and Acting Director of Environment & AgriFood at Cranfield University, UK.
Angel obtained his PhD in Microbiology from the University of Valencia (Spain) in 2007. He then worked for almost 2 years in the food industry until he obtained a post-doctoral grant from the Spanish Ministry of Science and Innovation to work in Cranfield's Applied Mycology Group, which he joined in January 2009.
Angel research interests are focused on the impact of environmental stress on the functioning of fungi (mainly mycotoxigenic species), the mechanisms used for ecophysiological tolerance, and the molecular basis of secondary metabolite production, especially mycotoxins and other relevant metabolites for industrial applications.
Angel has been involved in several projects to improve the storage and increase quality of small grain cereals and groundnuts. He combines his research with the role of Director of the MSc taught programme in Agri-food, and was awarded the British Mycological Society 2020 Berkeley Award for his contribution to mycology as an early career academic.