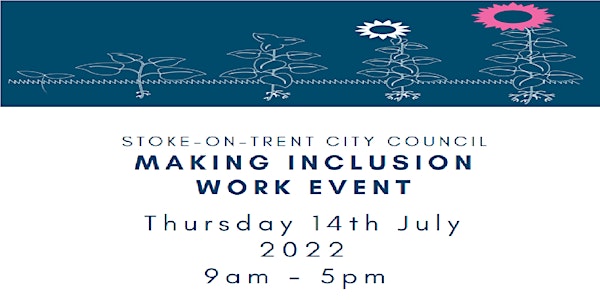 Location
The Bridge Centre
Birches Head Road
Stoke-on-Trent
ST2 8DD
United Kingdom
Stoke-on-Trent City Council "Making Inclusion work" event on Thursday 14th July at the Bridge Centre
About this event
We are excited to announce that Stoke-on-Trent City Council will be hosting an "Making Inclusion work" event on Thursday 14th July. The event will take place at the Bridge Centre between 9-5pm.
This workshop is specifically designed for education colleagues from Early Years, Primary, Secondary, Post 16, Special Schools and Alternative Provision settings.
Your attendance and involvement during at this event will be invaluable in supporting this opportunity to work with stakeholders and help to drive forward a shared vision of inclusion for Stoke-on-Trent.
 As you may be are aware in November 2021, we launched our graduated approach. We strive to ensure that the graduated approach is understood by all, being used effectively and embedded consistently across all our education provisions. The theme of the graduated approach will be a thread throughout the day. There will be a number of speakers presenting on thought provoking topics which will lay the foundation for the work we do going forward, building on existing good practise and developing our areas for improvement. We look forward to sharing the details of the line-up with you very soon! We will be dedicating this day to reflect together as education providers about what we mean by inclusion and reaffirming our commitment to our children, young people and families with SEND. This event will be the first of ongoing conferences and workshops that we are already in the process of planning.
 To support our ambition, we will be launching an Art Competition "What is Inclusion?" within our schools. We are inviting our schools to work with their children and young people to explore what inclusion means to them. The competition will take place across key stage 1 – 5 and we looking forward to seeing the entries. Details of the competition will be shared with education providers very soon.
We are hoping to have some engaging conversations. Please note that lunch and refreshments will be provided.
Stoke-on-Trent City Council are committed to making our events as welcoming and inclusive for as many people as possible.
If you are planning to attend one of our events and have specific access or dietary requirements, please contact lisa.stephens@stoke.gov.uk and we will make every effort to accommodate you.