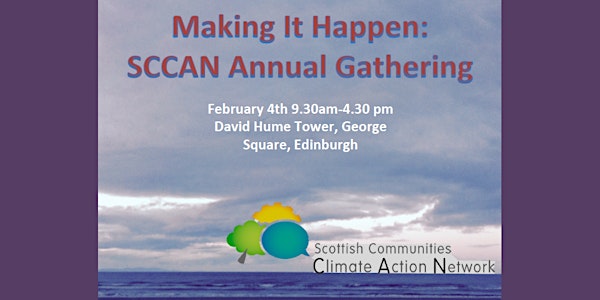 Making It Happen: SCCAN Gathering 2017 9.30-4.30 Sat 4 Feb, DHT, Edinburgh
Location
David Hume Tower Rm LG.09
George Square / Windmill St off Buccleuch Pl
Edinburgh
EH8 9JX
United Kingdom
Description
The Scottish Communities Climate Action Network (SCCAN) invite you to our Annual Gathering 9.30-4.30 on Saturday 4 February 2017, David Hume Tower*, George Sq, Edinburgh EH8 9JX.
Book at https://sccan4feb.eventbrite.co.uk

A day packed with inspirational talks and workshops with lots of space for you to share as well!
Paul Allen, Director of the Zero Carbon Britain project at the Centre for Alternative Technology (CAT) in Wales, will give a keynote address on their Zero Carbon - Making It Happen research.
UPDATE Andy Wightman, Green MSP, will join us in the afternoon as a Keynote Listener, and will provide an inspiring conclusion to the day, sharing ideas on the Community role in delivering low carbon aspirations.
A final programme is avaliable here.
Highlights of the day include:

Building regional momentum: Learning from Fife CCAN network - and applying it to your region

Community Energy / Community Enterprise - How we got stuff done - feedback from existing projects


Update and consultation - what's going on with Energy & Climate Change Policy in 2017?


Climate Resilient Communities - what do they look like and how can we get there?
There will also be an Open Space where you bring the topics most urgent and interesting to you and your group for wider discussion. See below for draft programme.

Social evening 6-9pm Friday 3 February, David Hume Tower.
For those of you nearby - or coming the day before to stay over - we invite you for an informal Social with food and drink on the Friday evening. This is a chance to get to know each other more. Paul Allen will join us for this - to share his experience of moving ideas into action. Register separately for this at https://sccan3feb.eventbrite.co.uk

Do you have something you could share at the Gathering?
There will be space to exhibit information about your project / group, so please bring posters, leaflets, reports.
We invite SCCAN members to give short Quick-Fire presentations on one of their projects. An informal session for sharing experience / novel ideas. Even if you've never done something like this before, please do consider it. Let us know if you are interested by Wednesday 18 January.
Tickets
Tickets prices are on a sliding scale. Please pay the amount that you feel comfortable with, knowing that the more expensive tickets go to help subsidise the cheaper tickets for unfunded groups.
We have FOUR FREE TICKETS for people willing to volunteer at the Gathering. We need people to help with: Set up and Tidy up; Registration; and Lunch serving and clearing up. Each task should take about an hour and volunteers will take 2 each. If you're interested, please get in touch with Eva Schonveld at eva@transitionscotland.org for more information.
Travel bursaries
We hope to have a fund towards travel costs, and will know how much is available by Wednesday18 January. If a travel bursary would enable you to attend, please indicate support requested and total travel costs in an email to Maria at info@scottishcommuntiescan.org.uk before then.

Local Accommodation
Fancy trying out some SCCAN couch surfing? We have asked local members to host visitors on the Friday night. If you would like one of those beds, or if you live in Edinburgh and can host someone, please indicate so when you book your ticket or email Maria on info@scottishcommunitiescan.org.uk.

Childcare needs booking early
We are very keen to support participants who have childcare responsibilities which would otherwise prevent them from coming. This could be in the form of an activity space within the building or could be support for your child-minding costs. Please email eva@transitionscotland.org BEFORE Wednesday18 January if you wish to bid for this support.
A final programme is avaliable here.
* Location map at https://goo.gl/lb1Q92