Design practice Future Practical share their experiences of manufacturing locally and forging rewarding collaborations.
About this event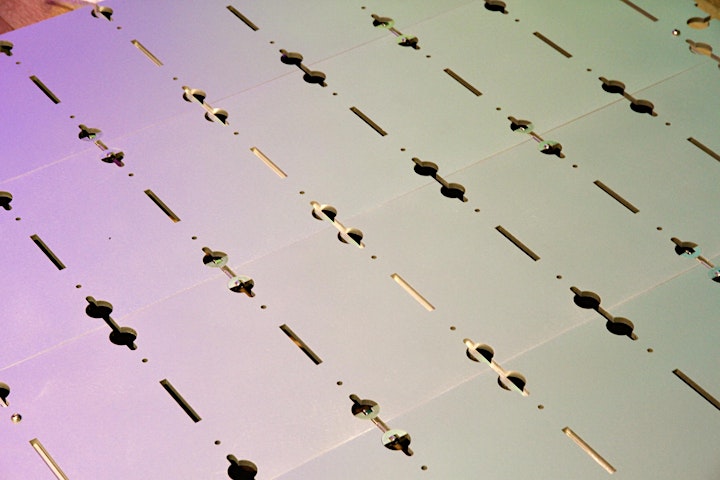 Join us for lively conversation about local manufacturing with Maria Lander & Peter Large founders of Future Practical, a research-led design practice launched in Glasgow in 2021. Energetic & passionate, they are determined to find new ways of working and collaborating.
They will be in discussion with Make Works Scotland which since their launch in 2014, have developed an extensive online network enabling designers and artists to meet and work with local manufacturers and fabricators. Future Practical will share their experience of using such networks to develop a series of exhibition plinths commissioned by V&A Dundee for its current exhibition Design for Our Times, curated by Design Exhibition Scotland (DES).
Made of perforated aluminium, Future Practical worked closely with Precision Metals (Glasgow) and North Sea Coatings (Arbroath), to produce the modular plinths which can be reconfigured and reused repeatedly. They also plan to make the designs available via open source.
Discussion will illuminate the creative realities and potential of working with manufacturers with the necessary skills, expertise and quality of finish to realise an exceptional and nourishing first experience of manufacturing in Scotland. Future Practical will reflect on the importance of partnering with local manufacturers and align it with the sustainable futures ethos of their practice. They will be joined by one of the Scottish manufacturers, who will contribute their experience of working with Future Practical on the plinth project and will share what they seek when working with or being approached by designers on future manufacturing projects. Their contribution supports Make Works Scotland's invitation to manufacturers, fabricators, material suppliers and workshop facilities to get listed.
Design for Our Times explores material innovation for our contemporary age, prompting and providing context for the event case study and discussion. DES founder and exhibition curator, Susanna Beaumont will introduce Future Practical's V&A Dundee's commission and outline why the work is integral to the ethos of Design for Our Times.
Future Practical is a research-led design practise dedicated to enabling transitions to more sustainable futures by challenging the consumption paradigm. Their research investigates systems of production and patterns of use, seeking to identify points where they can intervene to make positive change. They conduct their research through both client-based and self-directed projects where they can strategically design and experiment with alternatives to existing norms.
Based in Arbroath, ideally located for the North Sea Industry, North Sea Coatings have a skilled and knowledgeable workforce with 60+ years of experience in the electroplating industry.
Sheet metal fabrication is at the heart of what Precision Metals do. They provide design and bespoke fabrication services including fibre laser cutting and custom complex folding using AMADA machines, plus intricate TIG / MIG welding, grinding, de-burring and dressing. They provide a comprehensive fabrication service and work with metals like steel, aluminium, titanium, brass and copper from their base in Dalmarnock, east Glasgow.
Launched in 2018 by Susanna Beaumont, Design Exhibition Scotland is a champion of the resolutely contemporary and time-honoured, celebrating exceptional objects and ideas for the everyday. They support experimentation, excellence, exploration and brilliance of the many designers, makers and artists working across Scotland today through an on-going programme of projects, commissions, conversations and online journal, DES.
Make Works is a global library for local manufacturing. It is an open resource made by dedicated factory finders around the world, enabling you to explore and connect with skilled manufacturers, sustainable fabricators, material suppliers and workshop facilities to create and produce work in your local area. Make Works Scotland, the first region and original home of Make Works, supports local networks, communities and economies and raises awareness of the skills, knowledge and capability of our local manufacturers to shift the perception of manufacturing and repair.
Images Michael McGurk & Susanna Beaumont